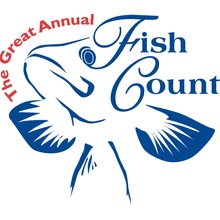 REEF's Citizen Science Saturday program for July is a
Fish Identification Class and Dive
organized in honor of the Great Annual Fish Count!
The Great Annual Fish Count (GAFC) is an initiative designed to encourage the public to become engaged with marine citizen science. Every July, divers and snorkelers join in the GAFC to learn about marine life and conduct fish surveys as a part of REEF's ongoing
Volunteer Fish Survey Project.
Sightings reported by volunteer divers and snorkelers provide valuable data to researchers monitoring ocean changes. Volunteers conducting REEF surveys have discovered new species, helped establish the known range of certain species, tracked the spread of invasive species, and tracked fish populations over time. Join us to take part in this engaging and powerful ocean citizen science project!
REEF divers and snorkelers use an easy, visual survey method specifically designed for volunteer data collection. Each recorded species is assigned an abundance category based on how many of each species were seen during the survey. Survey materials including a slate, pencil, underwater paper and laminated photo identification cards will be provided for participants to use during the program. If you have your own camera, we encourage you to bring it to take pictures of mystery fish.
This program is open to divers and snorkelers. The day will begin with a classroom lesson including fish identification and an introduction to REEF's survey method. In the afternoon, we will head out on the water for an afternoon dive/snorkel trip to two shallow reef sites, where we will conduct REEF surveys.
---
Schedule and Details
Fish Identification Class and Survey Practice

Location: REEF Interpretive Center (98300 Overseas Hwy. Key Largo, FL 33037.)

Time: 10 - 11:30am

Cost: Free to attend. If you wish to attend only the class, please reserve a seat by e-mailing brittany@REEF.org.
Dive/Snorkel Trip

Location: Island Ventures (51 Shoreland Dr. Key Largo, FL 33037)

Time: Check in at 12:30pm. 1pm departure; expected to return to dock at approximately 5pm.

Cost: $55 per diver; $45 per snorkeler. Please register and pay directly with REEF by following the steps below.

Boat space is limited. Registration is on a first-come, first-served basis.

All boat trips are subject to change based on weather and other conditions.
---
Payment and Registration Form
There are two steps to register. Please complete both of the following steps.
Step 1. Click here to fill out registration form.
Please register by 3pm EST on Friday, July 19.
Step 2. Click here to pay for this event.
---
Frequently Asked Questions
What if I need rental gear?
Please contact the dive shop to make arrangements for rental gear. All costs for rental gear will be paid directly to the dive shop. Tanks and weights are included in the cost of the dive trip and do not need to be reserved in advance.
What happens after I register?
Shortly after you submit your registration form, one of our staff will send you a confirmation email. You will also be asked to complete a REEF liability waiver online. You will also need to complete an Island Ventures waiver in person on the morning of the event.
What is the cancellation policy?
All trips are subject to change based on weather and other conditions. Due to the nature of the event and limited space, no refunds are available for cancellation or no shows. You will receive a full refund for the boat trip if the operator cancels that day's trip, however, we are not able to offer refunds for this event under any other circumstance.
What is Citizen Science Saturday?
Citizen Science Saturday is REEF's new monthly program to engage Florida Keys residents and visitors in a variety of citizen science projects to increase environmental awareness and stewardship. For more information or to see past programs, click here.