---
Dave Grenda
How long have you been doing dive surveys?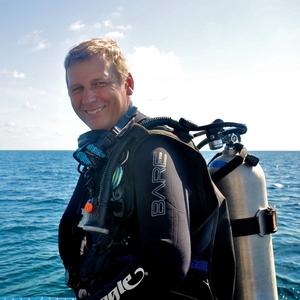 I've been surveying over 15 years. I conducted my first REEF fish survey on July 23rd, 1998, at Molasses Reef in Key Largo writing down 26 species over the 54-minute dive.
Where do you survey?
While most of my surveys have been in Florida, I have done REEF surveys all over the Tropical Western Atlantic region (top 3 surveyor). I've also done surveys in the South Atlantic States (top surveyor), Hawaiian Islands (in the top 25 surveyors at the moment), Tropical Eastern Pacific (in the top 10 surveyors at the moment), and South Pacific (top 2 surveyors) regions.
When did you join the Golden Hamlet Club?
I did my 1,000th survey in the TWA area on June 26th, 2008.  By that dive I had a fish life list of 439 species in the TWA area.  There are currently about 15 members of the Golden Hamlet Club, but I'm lucky enough to be one of only three surveyors with over 2,000 surveys. 
Tell us about your 1,000th survey!
I was making a morning shore dive at Venice Beach Florida looking for fossilized shark teeth while also noting any fish species that I happened to encounter in the 5-foot visibility.  I didn't know at the time that this particular dive was a milestone for me.  Since it's one of the few shore dives within driving distance of my home in Lakeland, I had dove Venice Beach before.  I saw 27 species - I didn't add any new species to my life list during this particular dive, but I have on other occasions at this dive site.  Since the sea bottom is unlike the typical coral reefs of Florida, the site offers up different species than "normal" (like black sea bass, zebratail blennies, etc.).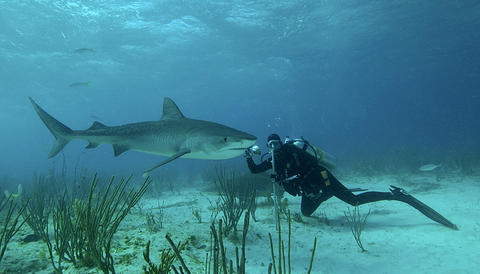 REEF Golden Hamlet Club Member Dave Grenda with a tiger shark.
What is your favorite memory about REEF and the Volunteer Survey Project?
Many years ago, REEF was conducting several Advanced Assessment Team (AAT) projects in the TWA region.  I was very fortunate to be included on several of those trips.  Diving with fellow "fish geeks" was not only a tremendous learning experience for me, but it was also very fun talking "fish" with like-minded individuals.  It's tough to put into words how exciting it can be to add a new fish to your life list when you're diving with other REEF folks.
Do you have a favorite fish or invertebrate? Why?
Sharks are definitely my favorite type of fish.  Being an apex predator, they are a very charismatic megafauna that can be a challenge to encounter at times.  I've had to go on special trips to dive up close to great whites, tigers, oceanic whitetips, whale sharks and great hammerheads.
White Shark by Dave Grenda.
What is your favorite part about being a REEF member?
Being a REEF member has opened an entirely new world to me. The fish identification skills I've acquired through REEF has opened many doors for me as a citizen scientist. I'm extremely grateful for the many opportunities I've been provided through my association with REEF. Attaining Expert survey level has enabled me to join numerous research efforts with NOAA, National Park Service, Universities, Aquaria, and of course REEF itself. Working with marine scientists has been very interesting and those scientists have relied extensively on my fish identification skills that I've acquired during my REEF survey diving. While these scientists knew their particular specialty very well, they were often rusty in general fish identification. I quickly became a valued member of their team, treated as an equal colleague, and sought after for future projects.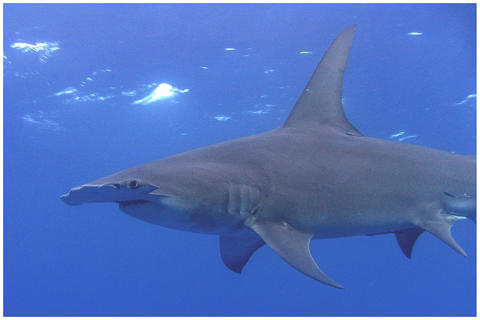 Great Hammerhead by Dave Grenda
Do you have any surveying, fishwatching, or identification tips for REEF members?
What new fish ID'ers need to do is SLOW down. It's much easier to see the movement of a cryptic fish, or just about any fish, when you aren't moving. If conditions allow, I'll start my dive by hovering in the water column. I'll write down every species I see as I slowly make a complete turn - looking in the water column as well as on the bottom below. To get the most species from each dive site, I'll try to hit as many different environments as possible (sand, rubble, top/middle/bottom of the reef, shallow/deep, etc.). Bring a flashlight to look into crevices and every tube sponge. It also helps to use the REEF database to know what species have been previously sighted at your dive destination. Before the dive you can acquaint yourself with the descriptions of new fish you might see there, so if you do come across that new fish, you'll already know how to identify it. Chance favors the prepared mind. You should also jump at the chance to dive with other fish watching experts. I've learned so much and so quickly by diving with other REEF folks - gaining confidence, learning new techniques, and just sharing wonderful fish stories.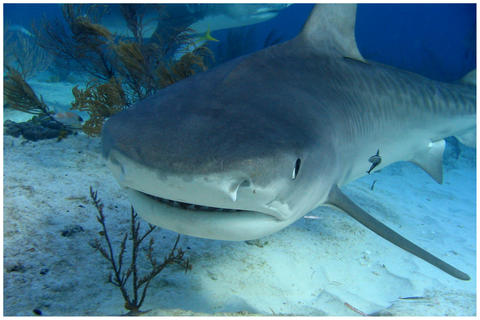 Tiger Shark by Dave Grenda
Feel free to share anything else about yourself and your diving adventures!
When I did my first REEF survey, I had no idea of where it would lead.  At first it was merely a way of "giving back" while learning more about what I was seeing during a dive.  Fish surveying then took over center stage of my recreational diving.  If I'm not taking photos or doing a survey, I feel like I'm missing something when I'm diving.  Even at familiar dive sites, I feel like I'm on a treasure hunt looking for new species to add to my life list or finding something that I haven't seen in a while.  I've seen new and interesting animal behavior as a result of surveying.  The more you know about fish, the more you can appreciate each dive.  If visibility is poor, I can just concentrate on the smaller stuff and have a wonderful time.  You can spend an entire dive on one coral head and have the best dive of the trip.  I've been on dive trips when someone is disappointed with the dive because they didn't see the turtle or ray - they lament at how there wasn't anything there.  I then show them my REEF slate from that dive and they're amazed at the quantity and variety of fish I saw.  On the next dive that diver returns all smiles at seeing everything he previously missed.  That's what REEF surveying can do for you.
I've been extremely lucky due to my involvement with REEF.  The fish identification skills I have acquired on my way to the Golden Hamlet Club have opened numerous doors for me.  During AAT trips I made connections with researchers from the National Park Service and National Oceanic an Atmospheric Administration (NOAA).  As a result I have been invited on numerous scientific expeditions off Georgia, the Florida Keys, and the US Virgin Islands.  While those researchers were experts in their field of study they often relied heavily on my reef fish identification skills. Those same fish identification skills allowed me to work with a professor at the University of Connecticut on his fish predator studies (and co-authoring two research papers with him).  I've dove as the fish "expert" with two non-profit research foundations on expeditions to Barbuda, Bahamas, Jamaica, Columbia, Galapagos, and French Polynesia.  Again, all these terrific research diving opportunities are the direct result of my fish surveying with REEF.
(January 10, 2014)