Our staff members represent a wide array of backgrounds and experiences, but we all share a passion for ocean conservation, education, and citizen science. Learn more about us below.
Martha Klitzkie | Christy Pattengill-Semmens, Ph.D.
Alli Candelmo, Ph.D. | Amy Lee | Allison Moran |Janna Nichols | Brittany Parker | Ellie Place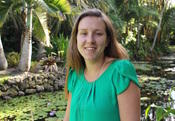 Martha Klitzkie
is REEF's 
Director of Operations
. She joined the REEF team in 2011 and is responsible for overseeing a wide range of administrative functions. Her primary responsibilities are finance, office/facilities management, long-term planning, public relations, advancing conservation partnerships, and development for program expansion. She also oversees many of REEF's extension programs based at Headquarters including Field Survey Trips, the REEF store, the Marine Conservation Internship Program, and the Explorers Education Program. Before settling down in the Florida Keys, she graduated from Warren Wilson College in North Carolina with a degree in Environmental Education, then went on to complete her Master's in Educational Leadership and Administration at Argosy University in San Francisco. A diver at heart, her passion for the ocean is now mostly land based. She enjoys living vicariously through the amazing underwater adventures and research her position makes possible for REEF staff and members.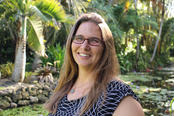 Christy Pattengill-Semmens, Ph.D.
is REEF's 
Director of Science
. Christy joined the REEF staff in 1998 and has been involved with REEF since its beginnings in Key Largo in 1993. Christy attended University of Southern California, where she earned her Bachelor of Science in Marine Sciences. She then conducted her dissertation research on fish assemblages at the Flower Garden Banks National Marine Sanctuary in the Gulf of Mexico, and received her Ph.D. from Texas A&M University. She is located in the West Coast REEF Office in San Diego, CA, where she also serves as a Visiting Scholar at Scripps Institution of Oceanography. Christy's primary responsibilities at REEF are to coordinate with research and management communities on the use of REEF's Volunteer Fish Survey Project data, manage the REEF.org website, and coordinate REEF's data management team. Christy has overseen REEF's survey project expansion through the years, moving the project from its roots in the tropical western Atlantic to all coastal areas in North and Central America, Hawaii, to the South and Indo-Pacific, and and most recently the Eastern Atlantic and Mediterranean. Christy has led dozens of REEF Field Survey Trips. Christy and her husband, Brice Semmens, Ph.D., are the lead scientists for REEF's Grouper Moon Project, studying one of the last and largest known spawning aggregations of the endangered Nassau Grouper.
---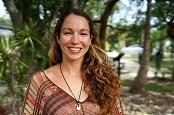 Alli Candelmo, Ph.D.
is REEF's
Invasive Species Program Manager
. Alli joined the REEF team in 2018 and brings a wealth of experience to the organization. She attended Rutgers University where she obtained a Ph.D. in Ecology and Evolution. She has studied the population dynamics and management strategies of invasive lionfish in the Cayman Islands and Turks and Caicos, working with the local stakeholders and communities on both islands to help improve removal efforts and gain a better understanding of invasive lionfish. Her doctoral and postdoctoral research has examined a number of anthropogenic impacts on coastal ecosystems and early life history finfish, including; toxicants, ocean acidification and increased temperatures. She had the opportunity to collaborate with REEF on the Grouper Moon project in 2016 and 2017 examining survivorship of early life stages of Nassau and Tiger Grouper. She also has experience developing hands-on science activities. She is a strong advocate for conservation of coastal and marine ecosystems, regularly volunteering for local community programs.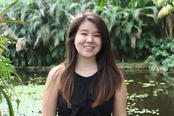 Amy Lee
is REEF's
Trips Program and Communications Manager
. She attended the University of South Carolina where she earned two degrees, a Bachelor of Arts in Public Relations and a Bachelor of Science in Marine Science. She came to REEF as a Marine Conservation Intern in the fall of 2014, and was ecstatic to join the staff in April 2015. Before moving to Key Largo, Amy worked in the communications department at the South Carolina Bar, served as Student Public Relations Coordinator for the University of South Carolina's Marine Science Program and studied coral reef ecology as a research assistant in Indonesia. Managing REEF's Field Survey Trips Program allows Amy to merge her passions for diving, communication, science and travel. She organizes, plans and promotes trips to dive destinations throughout REEF's nine survey regions and strives to implement effective communications into all aspects of REEF's programs. She frequently writes or edits content for REEF's online and print platforms, and in her spare time is a contributing writer for
Alert Diver
magazine, published by Divers Alert Network. Amy has surveyed throughout the Tropical Western Atlantic and Indo-Pacific, as well as the eastern Pacific, New England, and US west coast.
Allison Moran
is REEF's
Operations Manager.
Allison joined the REEF team in July 2019. She grew up in Point Pleasant, New Jersey, along the Jersey Shore, and spent summers on the Gulf Coast of Florida. She attended Eckerd College in Saint Petersburg, Florida, where she earned her Bachelor of Arts degree in Environmental Studies. After graduating, Allison worked as a Nature Preserve Ranger at Boyd Hill Nature Preserve in Saint Petersburg with a focus in environmental education. Following this, she worked with Sarasota County's Environmental Protection Division as an Environmental Specialist II, where she worked to minimize impacts to marine resources by reviewing marine construction plans and had opportunities to assist with the Marine Turtle Protection Program by tagging nesting adult female sea turtles. Her passion for marine conservation brought her to REEF, where she is excited to work towards REEF's mission for many years to come.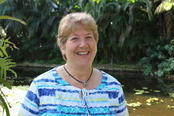 Janna Nichols 
is REEF's
Citizen Science Program Manager
, working extensively with the Volunteer Fish Survey Project database, training programs, and volunteer teams. She coordinates REEF's social media and was also the creator of the popular REEF Fishinar (webinar) program. Although Janna officially joined REEF staff in 2010, she has been conducting surveys, teaching Fish ID classes and giving REEF presentations as a volunteer since 2000, and is based in Vancouver, Washington. Janna loves underwater photography and marine life identification, and many of her photos appear in west coast marine life ID guides, publications, and online resources. Her efforts were integral to the design and photography on REEF's many laminated fish identification cards. She has personally completed over 1000 REEF surveys and is an expert level REEF surveyor in the Pacific Coast, Hawaii, Northeast US and Canada, and Tropical Western Atlantic regions. Janna is a PADI certified SCUBA instructor (retired), a past AAUS Scientific Diver and Dive Safety Officer, and the leader of REEF's Pacific Coast Advanced Assessment Team. In 2003, she received REEF's Volunteer of the Year award, in 2013 she received Dive News Network's Diver of the Year Award, and in 2015 she received the Golden Hamlet award from REEF.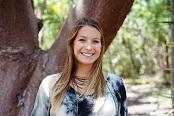 Brittany Parker
is REEF's
Education Program Specialist
. She joined the team in May 2018. She grew up in Akron, Ohio, and discovered her passion for the ocean from family vacations. She followed her interests to Florida where she attended the University of Tampa and earned her Bachelors of Science in Marine Science and Biology. Although her academic background is in science, she greatly enjoys teaching others about the ocean, which lead her to her intial jobs after graduating college - first as a Marine Educator at SeaCamp Inc. in Big Pine Key, and then as Lead Environmental Educator at Sanibel Sea School, on Florida's west coast. Following this, Brittany returned to the Florida Keys, this time in Key Largo, to work at MarineLab as a Field Instructor, where she continued to foster her passion for marine science education. During her four years at MarineLab, she earned her Divemaster certification, USCG 50 ton captains license, and even an Aquanaut Certificate. In addition she served as MarineLab's Outreach Coordinator, implementing a variety of environmentally-focused events and intiatives including marine debris cleanups and field-based community education programs for Keys residents. Her interest in marine conservation and education brought her to REEF, where she is excited to continue her career in the marine science world.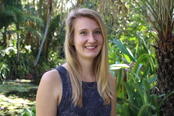 Ellie Place 
is REEF's
Conservation Coordinator of the Volunteer Fish Survey Project
. She attended Brown University where she earned two degrees, a Bachelor of Arts in Geological Sciences and a Bachelor of Arts in Hispanic Studies. She first started at REEF as a Marine Conservation Intern in the fall of 2016, and enthusiastically joined the staff in the spring of 2017 after serving as an Education Leadership Intern. She grew up in Washington State, halfway between the Puget Sound and the North Cascades, where her passion for exploring and conserving the natural world lead her to REEF. Before moving to Key Largo, Ellie worked as a co-leader for kayaking expeditions in the San Juan Islands and as a lab assistant in an oceanography lab that studied sediment samples from the East China Sea to measure centennial scale climate change. Ellie's passion for sharing conservation efforts support her role with the Volunteer Fish Survey Project and in expanding its many components. Ellie is a member of REEF's Advanced Assessment Team for the Tropical Western Atlantic, but has also enjoyed diving in the Pacific Northwest.