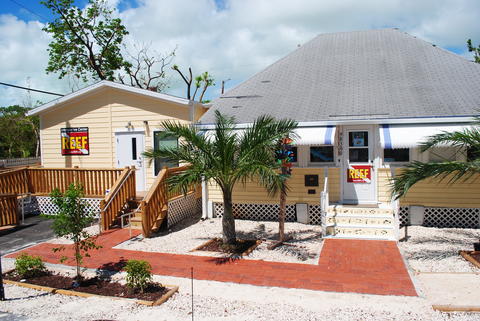 The REEF Campus is located in Key Largo, Florida, at MM 98.3 in the median along the iconic Overseas Highway. After originally operating from a home office and then a small storefront, REEF Headquarters moved to its current location in 2001. Headquarters is housed in a classic conch-style house, recognized as the oldest building in the upper Florida Keys in its original location. In 2009, thanks to a generous gift, the Headquarters building was renamed the James L. Lockwood REEF Headquarters. In 2017, with support from many of our members and the Monroe County Tourist Development Council, we undertook an ambitious transformation of the REEF Campus, adding a new Interpretive Center building, installing educational exhibits, and creating an outdoor oasis adjacent to the Florida Keys Overseas Heritage Trail.
We hope you will come visit us! 98300 Overseas Highway, Key Largo, FL 33037.
Interpretive Center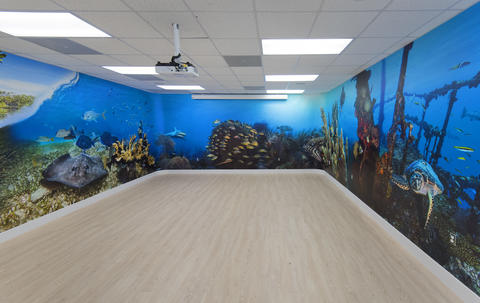 New in 2017, the REEF Interpretive Center provides a one-of-a-kind educational, underwater experience without having to get on a boat. A floor to ceiling mural combines many different marine ecosystems found in the Florida Keys, offering an up close and personal point of view to those that come in. Educational groups are welcome to schedule a formal presentation centered around Fish ID, lionfish, or mangrove ecology. Passersby are also encouraged to stop in for self-guided tours during REEF's normal hours of operation. Most of REEF's social and educational programming is conducted in the Interpretive Center.
Hours of operation: Monday – Friday from 9:00am to 5:00pm, and select evenings and weekends. Available for bookings.
REEF Headquarters and Marine Conservation Center Indoor Exhibits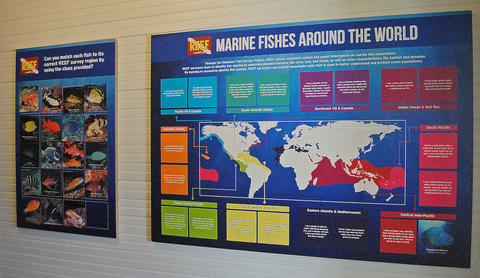 The REEF Headquarters building is home base to many of our staff, interns, and volunteers. The building also is home to the REEF Marine Conservation Center, which features nine diverse, educational exhibits. Self-guided tours teach visitors about invasive species, endangered species, marine biodiversity, marine habitats of the Florida Keys, the importance of long-spined sea urchins and their past and present population status, some causes and effects of climate change, an interactive exhibit centered around marine fishes from around the world, all the ways individuals can contribute to REEF's mission, and upcoming REEF events.
Exhibits are open during normal business hours, Monday - Friday from 9:00am to 5:00pm, and select evenings and weekends.
Outdoor Oasis
Just outside REEF Headquarters, an outdoor oasis and native plants trail has been designed to offer a relaxing and educational experience. The trail provides for informal learning opportunities and outdoor recreational activities, connecting the REEF Campus to the Florida Keys Overseas Heritage Trail, which is used by 1.5 million guests and bicyclists annually. Visitors can sit at the picnic tables and enjoy a shaded meal, or walk the trail and learn about the native plants and animals of the Florida Keys. Other amenities include a bike rack, drinking fountain, and kiosk with information about upcoming REEF events.
Oasis is open from sunrise to sunset, 7 days a week.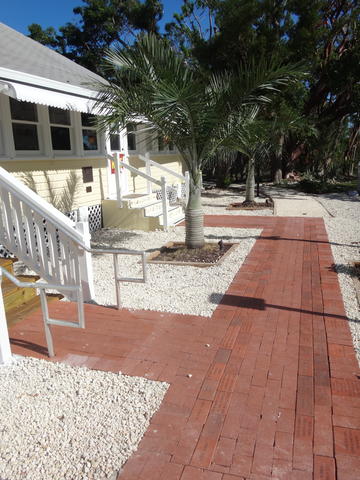 Pathway to Ocean Conservation
Paving the way from the Interpretive Center to REEF Headquarters is the Pathway to Ocean Conservation. The pathway honors the many REEF members and organizations whose donations played a critical role in supporting the indoor and outdoor educational exhibits installed in 2017.