What is the REEF Volunteer Fish Survey Project?
Reef Environmental Education Foundation (REEF) protects marine life through education, service, and research. REEF facilitates programs that actively engage divers, snorkelers, and other marine enthusiasts in marine conservation. This is primarily accomplished through the Volunteer Fish Survey Project. Since its launch in 1993, this citizen science program has generated one of the largest marine life databases in the world. In 2020, the database surpassed 250,000 surveys conducted at almost 15,000 sites throughout the world's oceans by over 16,000 volunteer divers and snorkelers worldwide.
With knowledge, training, and the opportunity to get involved, these marine citizen scientists make significant and ongoing contributions. REEF provides varied training opportunities to encourage wide participation, and has a comprehensive experience-rating system and QA/QC checks for data submission to ensure high quality data. The survey methodology was developed with support from The Nature Conservancy (TNC) and guidance by the Southeast Fisheries Science Center of the National Marine Fisheries Service (NMFS).
The project allows volunteer SCUBA divers and snorkelers to collect and report information on marine fish populations as well as selected invertebrate and algae species in temperate areas. To find out more about the REEF Invertebrate & Algae Monitoring Program, click here. The data are collected using a fun and easy standardized method, and are housed in a publicly-accessible database on REEF's Website. These data are used by a variety of resource agencies and researchers.
How do I access the database and summary reports?
All data collected by REEF volunteers is returned to REEF and entered into our database. This database is accessible online, via this Webpage, and a variety of reports can be generated. A summary report can be generated for a given location or region, with data on all species that have been documented there. Distribution reports can be generated for a specific species or family. And you can view your own lifelist of fish sightings using your REEF member ID number. To visit the REEF database, click here.
For more information on the types of data collected and how to interpret the data summary reports, click here.
If you are a researcher interested in raw data files for analysis, please contact our Director of Science at data@REEF.org.
How do I participate?
Anyone, anywhere can participate in the Volunteer Fish Survey Project. REEF volunteers use the Roving Diver Technique (RDT), a visual survey method specifically designed for volunteer data (see below). The only materials needed are an underwater slate and pencil, a good reference book, and access to the internet to submit the data online. REEF has developed several survey materials that make things easy, including pre-formated underwater paper and waterproof ID guides. These supplies, as well as slates, pencils, and training courses are avilable through REEF's Online Store.
Check out the VFSP Survey Toolbox for a complete list of resources available to REEF surveyors in each of our ten regions.
The Roving Diver Survey Method
During RDT surveys, divers and snorkelers swim freely throughout a site and record every observed fish species that can be positively identified. Species and approximate abundance scores are recorded on an underwater slate. The search for fishes begins as soon as the diver or snorkeler enters the water. The goal is to find as many species as possible, so divers are encouraged to look under ledges and up in the water column. Sea turtle species are also reported. More about the Sea Turtle Program.
Each recorded species is assigned one of four abundance categories based on about how many were seen throughout the dive [Single (1); Few (2-10), Many (11-100), and Abundant (>100)]. A few select invertebrate and algal species are simply marked as present.
At the end of the survey, in addition to recording all fish encountered (and depending on region, select invertebrate and algae species) and assigning the abundance category for each, it is also important to make note of metadata for the survey. More information on the metadata collected is here.
Click here to view a short instructional video of the REEF survey method.
Can I collect data while snorkeling or freediving?
Snorkelers and freedivers are valuable assets and can also conduct surveys. You do not have to be a scuba diver to conduct REEF surveys and collect important data.
If snorkeling is your thing, you can view much more information on doing surveys while snorkeling here.
If you're into freediving, we've got some vital info and handy surveying tips for you here.
Submitting your data
Following the dive, each surveyor transfers the information about their survey dive, including survey time, depth, temperature, and other environmental information, along with the species sightings data, to the REEF database. A separate survey submission is done for each dive.
Information is submitted one of two ways:
The location of the survey is recorded using the common dive site name and the REEF Geographic Zone Code. The Zone Codes are a hierarchical list of codes.
For instructions and more info, visit the Online Data Entry Tips and Info page.
Can I still use Scantron forms?
Not anymore. Optically-read scantron forms were used by REEF volunteers to submit data from the early days of the program in 1993 until the creation of online entry in 2008. REEF continued to accept scanforms for about 10 years. In 2017, REEF phased out the processing of scantron forms for data entry. Surveyors are advised to enter data from any remaining scanforms using our online data entry form (assisted with offline data entry program if needed). 
When and where are surveys conducted?
REEF surveys are conducted as part of a diver or snorkeler's regular activities - anytime they are in the water - and can be conducted in any of REEF's project areas:
Tropical Western Atlantic (TWA; Florida, Caribbean, Bahamas, and Gulf of Mexico), 
South Atlantic States (SAS; Georgia, South Carolina, North Carolina)
Northeast US & Canada (NE; Virginia through Newfoundland)
Eastern Atlantic & Mediterranean (EAM; Azores, Madeira, Canary Islands, Cape Verde Islands, Mediterranean, Irish, North and Baltic Seas)
West Coast of the United States and Canada (PAC; California-CAL, Oregon, Washington, British Columbia and Alaska-PNW)
Tropical Eastern Pacific (TEP; Gulf of California to the Galapagos Islands, West coast of Central America, Colombia and Ecuador).
Hawaiian Islands (HAW; main archipelago, northwest islands, Johnston Atoll)
South Pacific (SOP; Fiji, Samoan Archipelago, Line Islands, Cook Islands)
Central Indo-Pacific (CIP; Indonesia, Solomon Islands, Australia, Philippines, Hong Kong, Taiwan, Southern Japan)
Indian Ocean-Red Sea (IORS; Bay of Bengal, Maldives, Red Sea, East Coast of Africa, Madagascar and Indian Ocean Islands)
Each project area has different dataentry, training, and survey materials.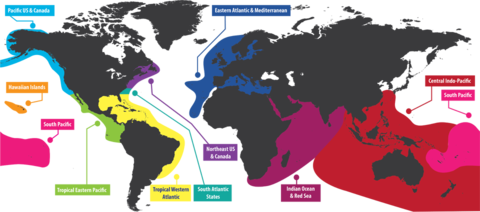 How has the Volunteer Fish Survey Project expanded around the world?
TWA - 1993
PAC - 1997
TEP - 2000
HAW - 2001
NE - 2001 
SOP - 2004
SAS - 2013
CIP - 2013
EAM - 2014
IORS - 2019
Expansion notes:
The original PAC expansion happened in California with fish surveys in 1997; a fish and invertebrate program was launched in the Pacific Northwest in 1998; an invertebrate program was added to the California program in 2006; and additional invertebrates were added to the Pacific Northwest monitoring list in 2015.
The area included in the SAS region (North Carolina, South Carolina, and Georgia) was always included in the TWA region, but it was formally moved to a distinct region and an invertebrate program added in 2013.
The original NE program was fish only. An invertebrate component was added in 2014.
More information on invertebrate and algae components is given below.
What happens to the survey after it's submitted?
The information goes through a series of computer and human error-checks. For data submitted online, this can take several weeks. If submitted by paper scantron form, the processing time is much longer, several months. After the quality control checks, the survey data are loaded into REEF's online database. From this database, a variety of reports can be generated on species distribution and population trends, for a specific reef or large geographic regions.
What are the different levels of surveyor experience?
REEF fish survey data are separated into two categories based on experience level- Novice and Expert. These experience levels are determined by number of surveys completed and examination scores. Click here to read more about these experience levels.
How do I interpret the data and the reports?
Roving diver survey data generate a species list along with sighting frequency and abundance estimates for each species. Click here for information on interpreting these frequency and abundance estimates.
Are the data accurate and useful?
 Yes! From the beginning, the program was designed in conjunction with marine scientists from NOAA, the University of Miami, and The Nature Conservancy. For over two years, a team of marine ecologists and fisheries managers monitored and carefully evaluated REEF's field methods and reporting procedures. Their study, published in the Bulletin of Marine Science in 1996, confirmed that the collected data are of extreme value to the scientific community. They found that fish surveys conducted using the REEF roving diver method meet several objectives:
Ability to collect large quantities of presence/absence and relative abundance data
Indication of species distribution throughout a geographical area based on sighting frequency and abundance
Specific species presence/absence and abundance lists may be presented for any given region, subregion, zone or site
Measures of similarity in species composition may be computed between any combination of geographical areas
Today, marine ecologists from NOAA, the State of Florida, Caribbean and Bahamas government environmental protection offices, marine park management, and conservation groups are already putting information from REEF's database to good use.
What are the data used for?
As the REEF Volunteer Fish Survey Project has grown, several papers and products have been produced using the roving diver survey method and the REEF database. For a complete list, visit the Publications page. In addition, the REEF Volunteer Fish Survey Project has become integrated into several projects. These collaborations have included those with management agencies and other non-profit organizations. To read more about these papers and projects and about using volunteers in data collection, visit our Monitoring and Research page.
Why collect fish survey data?
Once you start conducting fish surveys, your diving experience will change. Suddenly you will start to notice things on your dives that have always been there, but the difference is that now you will know them. You will realize when a species you encounter is a great find, and who are the usual suspects. Another reason - it allows you to participate, become a scientist, become an explorer. It gives you a voice to make a difference. We hope you will use it.
Are other animals included besides fish?
While the main focus of REEF's program is marine fish, we also survey select invertebrates and algae in our temperate water regions: Pacific Northwest, California, South Atlantic States, the Northeast US & Eastern Canada, and the Eastern Atlantic & Mediterranean. To find out more about the REEF Invertebrate & Algae Monitoring Program, click here.
Sea turtles are reported in all of REEF's regions - Sea Turtle Sighting Program.
REEF Database Citation
Please cite REEF's Database as:REEF. year. Reef Environmental Education Foundation Volunteer Fish Survey Project Database. World Wide Web electronic publication. www.REEF.org, date of download (day month year).
Contact REEF Co-Executive Director: Science & Engagement, Dr. Christy Pattengill-Semmens, to request raw data files.