---
Doug Harder
How long have you been doing dive surveys?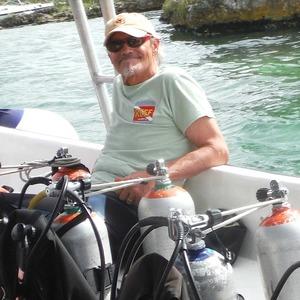 My first REEF Survey was in Bimini on October 27, 1996. It was a REEF Field Survey trip my daughter Hilary had signed up for to receive college credit. I went, even though I wasn't interested in "fish counting", it was to spend time together and scuba dive. That was 17 years ago and I still remember so many parts of that trip clearly. Ned showed me a secretary blenny and I thought "Are you kidding me? Such a small fish is worth looking at?" That was then.
When did you join the Golden Hamlet Club?
On May 19, 2013
Where do you survey?
Most of my surveys are in the Caribbean, I have also been to the Sea of Cortez, Fiji, and Hawaii. In 2014 I will be adding Costa Rica to my list.
Do you have a favorite fish or invertebrate? Why?
The sailfin blenny, not because of its coloring but because of its behavior! They are a cryptic fish about 2 ½" long that takes a bit of effort to find. When you do spot them and if you are a bit lucky you will see them in the water column about 3' off the bottom clapping their pectoral fins and flashing the long dorsal fin. This is a great sight see and to be able to watch fish behavior like this is one of the reasons to survey.
What is your favorite thing/memory about REEF and the Volunteer Survey Project?
Being a volunteer has given me the opportunity to see firsthand and learn many fantastic facts about the sea and the creatures living there.  REEF has brought me to places I never imagined I would go, and shown me sights I thought were unbelievable.
Another memory with REEF is going to Little Cayman and helping with the Grouper Moon Project. The thing that I will never forget is seeing 4000 Nassau groupers swimming along a ledge on Little Cayman at 90' getting ready to spawn.  They had taken on this different color pattern.
Plus I have been able to meet many other REEFER fish geeks whom will be friends for life.
Tell us about your 1,000th survey!
On May 19, 2013 at 2:20PM with a giant slate clipped to my BCD, I did a backward roll into the waters off Fiji.  My 1000th REEF underwater survey, I had heard of other people getting to 1000, but for many years I did not think it would be me, but a couple of years ago I saw it as a near possibility, and dove, dove, dove. On that memorable dive I saw 122 species of fish, of which the redtooth triggerfish stands out because of its red teeth.  Before jumping in we took pictures of REEFERS I had known for 15 years and some only met a few days ago.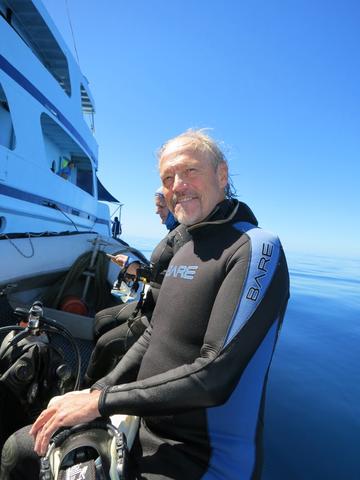 Feel free to share anything else about yourself and your diving adventures!
The surveys that are turned in are current data for the scientific community to use.  I have become part of citizen's science and by doing this, I am giving back to mother earth.  I have seen the little ½" blennys, snorkeled with a whale shark the largest fish species in the ocean.  I have found fish hiding and observed fish showing off, some going fast some going slow.  All together I have seen 1120 different species of fish!