---
Georgia Arrow
How long have you been doing REEF surveys?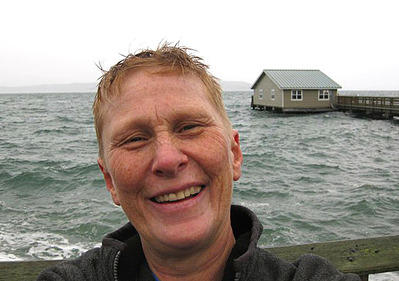 I started doing surveys on my 5th dive (my first dive after OW certification) in 2002. After certification, I was fortunate enough to immediately take a Fish ID class with Janna Nichols and she inspired me and then dove with me A LOT during my first couple of years as a diver and surveyor.
When did you join the Golden Hamlet Club?
I did my 1000th survey on 3 December 2014.
Where do you survey?
Most of my surveys have been done in my "local" waters-Puget Sound. But I have also done surveys while on vacation in Bonaire, Roatan, the Sea of Cortez, Hawai'i, the Florida Keys, and Costa Rica. When I dove on the GBR, we weren't doing surveys there yet so didn't get to do any there. In addition to being a Level 5 PNW surveyor, I'm level 3 in the TWA.
Do you have a favorite fish or invertebrate? Why?
My favorite local fish is the Spotted Ratfish. It is so amazing how it "flies" through the water, it is adorable, and it doesn't hurt that it's related to the shark family. Tropical fish favorite is the Boxfish, especially the Hawai'ian Boxfish. Too cute for words.
What is your favorite thing/memory about REEF and the Volunteer Survey Project?
My favorite memory was from my very first survey dive. We dropped down and I immediately saw and identified a Painted Greenling. I pointed to my underwater slate to show Janna what I thought it was. She nodded and I just thought that was the coolest thing ever. A surveyor was born. My favorite thing about REEF is knowing that I'm doing some good while I'm doing something I love. And I love that it pushes me to really know what I'm looking at when I dive.
Tell us about your 1,000th survey!
Went to one of my favorite dive sites, Sund Rock, on Hood Canal with my buddy, Steve Zedekar, and the captain of the Ocean Quest Dive Charter, George Potts, for my 1000th. A typical December dive in the Pacific Northwest. Cold air temperature in the 30's, warmer in the water at 52 degrees. Viz was anywhere from 5-15'. Saw most of the usual suspects for that time of year including Wolf Eels, 4 varieties of Rockfish, and 3 varieties of Perch. Invertebrates included our usual Plumose & Tube Dwelling Anemones, Coonstripe Shrimp, a Yellow Margin Dorid, and even a single Lion's Mane Jelly.