---
Janna Nichols
How long have you been doing dive surveys?

I learned to dive in November of 1999, and did my first REEF survey about a year later on dive #82, during a dive trip to Bonaire. After returning home to the Pacific NW, I realized I needed to learn the fish here in order to do surveys. So I took pictures (back then it was film and we were limited to 36 shots) and studied ID books to learn what I was seeing.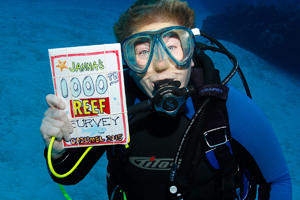 When did you join the Golden Hamlet Club?
Almost exactly 15 years after conducting my first survey, on December 6th, 2015, I completed my 1000th survey on a REEF Field Survey trip to Cozumel with my dive/REEF surveyor buddy/husband Claude, and surrounded by many REEF friends!

Where do you survey?
Most of my surveys (840+) took place in the chilly waters of the Pacific Coast (from California to British Columbia, but mostly in Washington state) where we count both fish and invertebrates. Surveying invertebrates instills this desire to learn about everything living underwater! I also have a smattering of surveys from Hawaii (where I am a Level 3), the South Pacific (also a Level 3 there), and the South Atlantic States. I only have about 90 surveys in the TWA region, where I recently achieved Level 5.
[photo by Claude Nichols]

Do you have a favorite fish or invertebrate? Why?
Too many to list, in too many regions! (hey, variety is the spice of life, right?) Among my favorites are the super colorful Puget Sound King Crab, the China Rockfish (PNW), the Eyestripe Surgeonfish (HAW and SOP), and a recent addition: The Sargassum Triggerfish (TWA).
What is your favorite thing/memory about REEF and the Volunteer Survey Project?
Teaching and watching the program grow in the Pacific Northwest. Fifteen years ago, nobody had heard of REEF out here. Now, it's really satisfying to see so many cold-water divers (most of whom I personally taught in classes) actively engaged in doing REEF surveys, and they are now teaching others. Even more satisfying is seeing the data being used by scientists, researchers and policy-makers in the area. That's why we're doing this, right?

Tell us about your 1,000th survey!
It was my very first dive in Cozumel, so we were drifting along with the current, when Claude found a Splendid Toadfish - my first! Later on, he discovered a big ol' Nurse Shark sleeping under a ledge. At the end of the dive, we were treated to a large Spotted Eagle Ray complete with a Permit entourage.
Feel free to share anything else about yourself and your diving adventures!
I love taking underwater photos, and have been doing so since I started diving many years ago. And I love comparing fish species from one region to another. They can be so similar, yet live in different oceans and be called different names. When you're a REEF fish geek, there's no such thing as a 'boring dive' - you can always find something to look at - every dive is an adventure!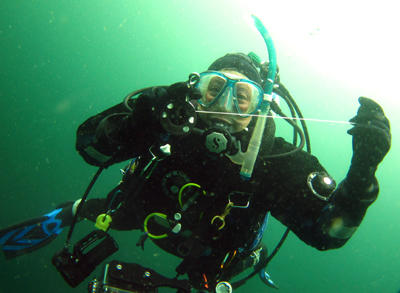 photo by Doug Biffard