---
Kathie Comerford
How long have you been doing surveys? 
I have been doing REEF surveys since 1993, when Lad and Paul formed REEF. I was on the Board of Directors at the Palm Beach Zoo, which was one of the first REEF Field Stations. When REEF was formed I was proud that we now had an organization to store and utilize data. 
When did you join the Golden Hamlet Club?
I joined the Golden Hamet Club in July 2018. 
Where do you survey?
I am fortunate to live near Jupiter Inlet in Florida. Every day that the water is clear, I snorkel for 1 to 2.5 hours. I have traveled to and surveyed in several of the Hawaiian Islands many times as well as Costa Rica, Bonaire, the Cayman Islands, Florida Keys, Fiji, Heron Island, and the Great Barrier Reef.
Do you have a favorite fish or invertebrate? Why?
My favorite invertebrate is the Florida Regal Sea Goddess which are tiny (about 1.5" long), have a spectacular cobalt blue and gold body with a crown, and are hard to find. They are very gentle. I also saved a Green Moray who had a hook through his face and was tangled with fishing line to a dock. We named him "Greenie." The moray has swam beside me down the Inlet. A photographer came from Hawaii to film me and Greenie years ago. My photo of Greenie hangs in my photo gallery at our Jupiter Inlet Beach Club.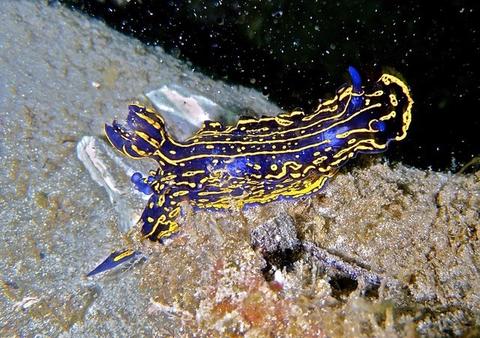 What is your favorite thing/memory about REEF and the Volunteer Survey Project?
In 2017, for my 70th birthday my husband took us to Matangi Island, Figi and Heron Island of the Great Barrier Reef. The educators and the local people there were fascinated by the research I was doing in their waters. I showed them where many of the species lived and also marked their REEF ID books for them. I also gave them copies of all my research. Hopefully, this will serve as a base line for future research. The local people and scientists in these areas treasure and protect their reefs and marinelife. Another time, Tracy Sinai and I (both REEF members since the founding) were followed by a Manatee who tried to mate with us. I have photos of him displaying his genitals. Mote Marine Lab was happy to receive them as they had no photos showing this activity before.
What was something memorable about your 1,000th survey?
I was recording our newest Nurse Shark, "Baron the Second", born to Donald and Melanie (also Nurse Sharks) who I watched mating several weeks ago. Last year around the same time, they produced another baby, "Baron the First." I was thrilled to take photos of their new baby. 
Feel free to share anything else about yourself and your diving adventures!
Over the years I have meet many wonderful people through my snorkels (I don't dive as I am asthmatic). Our clubhouse has a permanent exhibition of  my underwater pictures from our Inlet. Several of my photos have been published in books, won contests and been on display at Museums, and other clubhouses and private homes. Currently, two of my FP&L Manatee photos are on permanent display at the Manatee Lagoon Museum in West Palm Beach. People are delighted to learn we have 400 species of fish in our Inlet, which also serves as a nursery for the tropicals coming in from the Bahamas. On a quiet, mid week clear day I have watched rare Ocean Mantas feed at the mouth of the Inlet, and a school of 15 Manatee followed me out the Inlet with our marine police boat to the safety of the ocean. Who would not be thrilled to find a Striated Batfish and enjoy a Mantis Shrimp eating breakfast at our 707 Bridge. I am blessed to live in a paradise with sea turtles, fish and marinelife friends surrounding me.