---

---
Pam Wade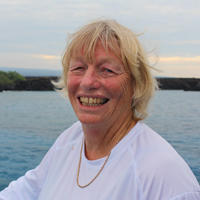 How long have you been doing dive surveys?
I have been doing REEF surveys since July 1997.
When did you join the Golden Hamlet Club?
On September 3, 2017 on the REEF Field Survey Trip to Bequia. 
Where do you survey?
I survey in California, the Tropical Eastern Pacific, Tropical Western Atlantic, Central Indo-Pacific, Hawaii and wherever I am diving. 
Do you have a favorite fish or invertebrate? Why?
I liked finding a Golden Angelfish at Karumolun Point in the Solomon Islands on Christy's 1,000th survey dive.
What is your favorite thing/memory about REEF and the Volunteer Survey Project?
The first thing I remember on a Bonaire Discovery trip was Paul Humann telling me to look inside the yellow tube sponges, you can almost always add a Yellowline Goby to your survey.  I also really enjoyed teaming up with Chuck Curry to shoot lionfish in Dominica.
Feel free to share something memorable about your 1,000th survey (ex: date, location, special fish):
My 1000th survey was at Moon Hole in Bequia. The best find was a Colon Goby. A couple of days later was a much more interesting dive. Tracy Griffin found a Chain Moray, Doug Harder pointed out a Secretary Blenny, Sue Manning got a perfect picture of a Red Banner Blenny, and I got a picture of a sewing machine!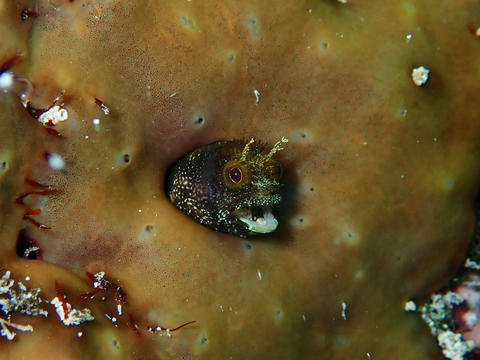 Secretary Blenny by Ellie Place
Feel free to share anything else about yourself and your diving adventures! 
Besides learning about the fish, what's out there to find and where to find them, I love meeting the many divers who dive with REEF, keeping in touch and planning the next trips together.  I can now honestly say, after 19 years of drawing pictures on the back of my slate, I love taking pictures and when Christy asks, "do you have a picture of ...." I can say yes!