---
Peter Leahy
How long have you been doing REEF surveys?

The first survey I submitted was in Feb 1995, species only.
When did you join the Golden Hamlet Club?

My records show that I was the third member of the Golden Hamlet Club, behind Laddie and Linda Baker.  According to my record keeping the 1000th survey was on June 27, 2005 on Boca Jetty.  
I did my 2000th survey (Double Golden Hamlet) on January 1, 2009, at Blue Heron Bridge.  That dive was with Laddie hunting for a Lionfish.  Interesting, it took ten years to do the 1000 surveys, but only 3.5 years to do another 1000 surveys.  Now closing in on 3000 surveys.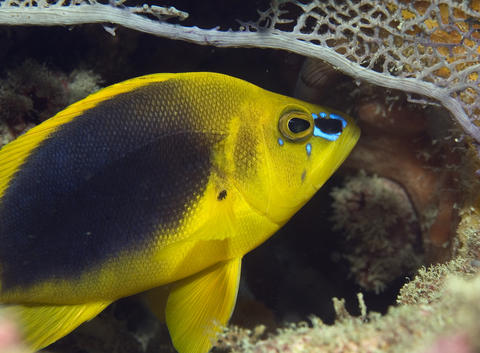 Photo by Peter Leahy
Where do you survey?
The great majority of my surveys are done close to home on the reefs of Broward and Palm Beach Counties in South Florida.  Here are some statistic from the database:
The site I have surveyed the most is 33010001 Commercial Pier Reefs/Datura Ave 1st and 2nd Reef.  I surveyed this site over a thousand times (pretty sure I'm the only person to survey one site one thousand times)!  This is the only site in the database with more than 1000 expert surveys.  
There are a few other sites I have surveyed over one hundred times.  Blue Heron Bridge(33010059), Boca Ledge Artificial(33010124), and Deerfield Ledges(33010162)
I have 2322.5 hours of bottom time doing surveys, that's more time than people spend in a classroom to get an undergraduate degree!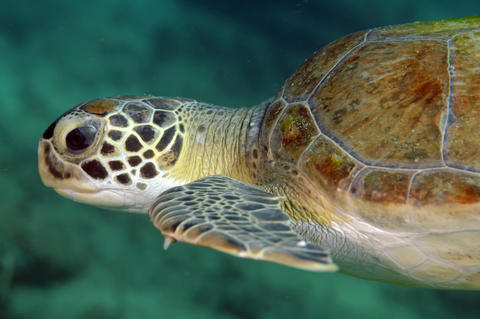 Photo by Peter Leahy
Do you have a favorite fish or invertebrate? Why?
It would be really hard to name a favorite fish.  The Hamlets are among my favorites.  Why I like the Hamlets, is they tend to be somewhat curious and are easily approachable (great for photography).  Also I like the Hamlet argument, "Are they all the same species or not?"  A close second is the Atlantic Spadefish.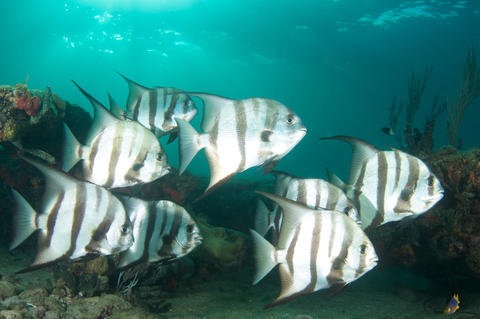 Photo by Peter Leahy
What is your favorite memory about REEF and the Volunteer Survey Project?
This is somewhat a hard question, because I have so many great memories.  Here is one - Somewhere about 1999 or so I surveyed a deep wreck in Broward County.  I submitted the scan form to REEF and shortly thereafter received an email from Leslie Whaylen (Field Operations Coordinator at the time).  She was questioning my sighting of "Many" Yellowtailed Reefish. I was indignant!!!  Of course I saw "Many" Yellowtailed Reefish, it's a deep wreck, they like deepwater!!  I eventually met Leslie, and had a good laugh over the whole thing. We did quite a few dive/surveys together also. Leslie provided great impetus for the amount of surveys I have completed for REEF.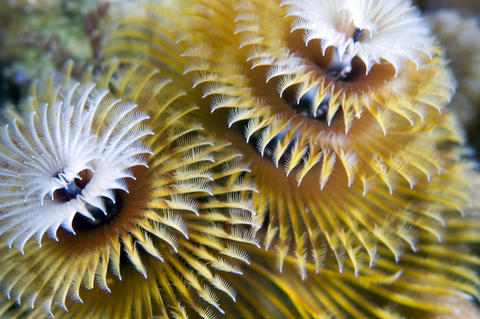 Photo by Peter Leahy
Tell us about your 1,000th survey!
There wasn't anything really special or memorable about the survey 1000.  Survey 2000, was far memorable for several reasons.  It was on New Year's Day in 2009.  I went looking for a Lionfish with Laddie at the Blue Heron Bridge, at the time the Lionfish had a stronghold in the Bahamas and were still somewhat rare in Southeast Florida.  We never did see a Lionfish that day though.
Feel free to share anything else about yourself and your diving adventures!
I have an uncommon profession for this day and age, I work on cargo ships for a living.  Presently I am the Chief Engineer on the APL China, a container ship that delivers cargo from Asia to the West Coast of the United States. For every day I work on the ship I get a day of vacation. So in a given year I am gone half of the time, but the other half of the time I am on vacation.  The reason for completing so many REEF surveys is the amount of vacation and that I live in South Florida.  Also I have the good fortune of occasionally being hired by a company to count fish because of my REEF survey experience.  I have done fish counts for this company at Puerto Rican Islands of Vieques and Culebra.  Also spent three weeks surveying fish at the Indian Ocean Island of Diego Garcia.  Also I am a scuba instructor and underwater photographer.  Some of my photos will be in Paul Humann's next edition.  More fishy photos can be found at my website.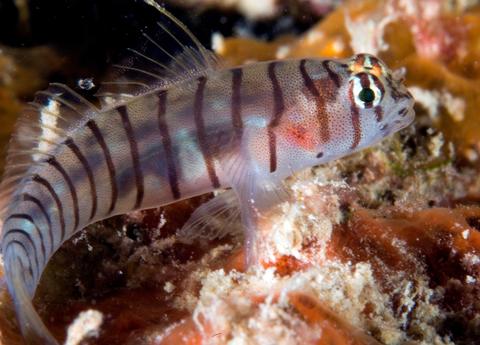 Photo by Peter Leahy