---
Sheryl Shea
How long have you been doing REEF surveys?
Since 1994. I can't believe it has been that long! I got my Open Water Certification in 1992, and I loved diving but I am the kind of person that always has to be doing something so sightseeing underwater, although beautiful, could only keep my attention for so long. Then I saw a little ad for a new NGO "REEF" in a dive magazine, and I signed up for my first field survey trip in Marathon, Florida. Lad Akins and Emily Schmitt taught it. I was fascinated from the first day, and I still am! Lad Akins really is the one responsible for my addiction to fish surveying.
Where do you survey?
Mostly in Cozumel and the Yucatan but I was fortunate to be able recently to add my first South Pacific surveys, in Fiji.
Do you have a favorite fish or invertebrate? Why?
Cherubfish and Indigo hamlets. No special reason, I just like them! I am also quite partial to cleaning gobies.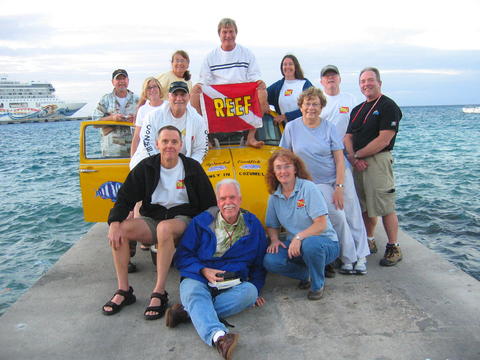 What is your favorite part about REEF and the Volunteer Survey Project?
Oh gosh, they are way too numerous to mention! As any long-term REEFer will tell you, the camaraderie of like-minded dive buddies is something very special, and the never-ending learning about underwater critters brings out the childish curiosity in me.
I taught REEF courses for quite a few years for the Cozumel Marine Park and the annual Cozumel field survey. All of that was quite the adventure for a nurse from New York. Many of those dive buddies are now lifelong friends, and only they will understand my excitement when I see, for example, a Broadstripe goby in Cozumel.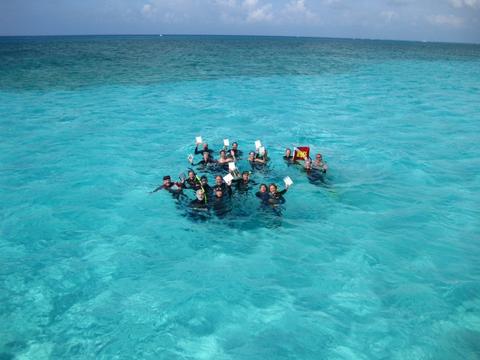 Feel free to share anything else about yourself and your diving adventures!
Thanks to REEF I have had the opportunity to do so many things that most people could never even imagine doing, like participate in the Grouper Moon Project. It doesn't get much more exciting that sunset dives with thousands of spawning grouper at 90 feet in ripping current.
Other favorite include: Staying at research camps at Banco Chinchorro & Xcalak with marine park biologists in some pretty shaky conditions (both underwater and topside!). Diving with Paul Humann in Fiji, especially the Nigali Pasage, teaching the REEF course with Lad in Veracruz and being part of discovering new species there, snorkeling with loads of whale sharks off Isla Mujeres, diving with the editor of Scuba Diving Magazine to do an article about Splendid toadfish… the list is endless!