About the Leadership Intern Program
After participating in REEF's Marine Conservation Internship, exceptional participants may be offered an extended opportunity to participate in the Leadership Intern program. Leadership Interns gain in-depth experience and hone their career skills in a specific area while working closely with a REEF staff mentor throughout the duration of their internship. Leadership Interns provide training and support for incoming Marine Conservation Interns and also gain experience in nonprofit management and operations by participating in projects that support REEF's overall mission and marine conservation initiatives. 
Professional development is a focus throughout the program. The program includes opportunities for guidance on resume and other career planning documents, creating measurable goals and objectives for skill development, and recurring evaluation sessions with supervisors for constructive feedback.
Highlights of the Lead Intern program include:
Opportunities to meet with and learn from leaders in marine conservation
Working with a REEF staff mentor to develop and master skills in a program area at REEF (Education and Outreach, Communications and Events, Volunteer Fish Survey Project, Invasive Species Program, etc.)
Assisting with the Marine Conservation Internship program
Professional development opportunities including resume and portfolio building, goal setting and evaluation sessions
*Leadership Intern positions are extremely limited and are available by organizational invite only.
The Leadership Intern Program is a 35-hour per week commitment ranging from six months to one year. Program hours are typically Monday through Friday, from 9am to 5pm. Leadership Interns may often have responsibilities for participating in evening and weekend events.
---
Current Leadership Interns
Maddi Piascik
Events and Communications Lead Intern -- June 2020 - June 2021
Maddi graduated from the University of South Carolina in December 2019 with a Bachelor of Science in Marine Science and a minor in Advertising and Public Relations. Her love for the ocean uniquely blends with her passion for design. While in college, she conducted an independent research study focused on phytoplankton and served as the Design Director for USC's Dance Marathon. Maddi merged her two passions by administering a week of sustainability engaging those on campus and throughout the community with interactive exhibits highlighting various environmental issues. In May 2019, she spent a month scuba diving as a Marine Conservation WTSA Volunteer in Sodwana Bay, South Africa where she contributed to local citizen science projects. She then continued to explore the world's oceans by spending a study abroad semester in Australia at James Cook University. Maddi's travels instilled a passion in her to spread awareness about the many threats facing our oceans. In January of 2020, Maddi joined REEF as a Marine Conservation Intern to effectively combat environmental threats and advocate for healthy oceans. She implemented her creative communication skills and underwater experience to design marketing materials such as social media graphics, educational displays, and promotional products for REEF events. REEF's Lead Intern position allows Maddi to apply her visual communication skills to inspire the public and preserve marine environments worldwide.
Riley Zoldi
Education and Outreach Lead Intern -- September 2020 - August 2021
Riley attended North Carolina State University and graduated in the spring of 2019 with a Bachelor of Science in Environmental Science and a Bachelor of Science in Marine Science with a concentration in Biological Oceanography. Riley first came to REEF in the spring of 2020 as a Marine Conservation Intern. During her internship, Riley helped implement Fishy Hours by creating multiple Fish Jeopardy games for REEF members to play while staying safe at home. Prior to her lead internship, Riley worked for New Logic Marine Science Camp, where she taught outdoor environmental education to children on the coast of New Jersey. She loves encouraging people to appreciate their local marine environments in hopes that they will try to protect the biodiversity found there. As the Education and Outreach Programs Lead Intern, Riley will be assisting with the Explorers Program by scheduling, prepping, promoting and teaching educational programs at the REEF campus and offsite. Riley cannot wait to engage with the local Key Largo community, visitors at the REEF Campus, and REEF members, both locally and worldwide, through education and outreach to spread marine conservation awareness.
Past Leadership Interns
Maya Ganapathy - Education and Outreach Program Lead Intern (January 2020-April 2020)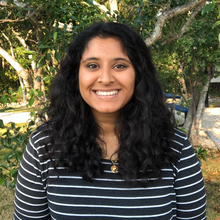 Stacey Henderson - Volunteer Fish Survey Project Lead Intern (August 2019-April 2020)
Madalyn "Moose" Mussey - Invasive Species Program Lead Intern (April 2019-October 2019)
Kate Dremluk - Operations and Development Lead Intern (September 2019-October 2019)
David Ehlert - Education and Outreach Lead Intern (May 2019-August 2019)
Sophie Costa - Education Leadership Intern (August 2018-April 2019)
Laura Palomino - Education Leadership Intern (May 2018-August 2018)
Gabby Magalski - Education Leadership Intern (May 2018-August 2018)
Kathy Ilcken - Education Leadership Intern (January 2017-December 2017)
Ellie Place - Education Leadership Intern (January 2017-April 2017)
Ashley Yarbrough - Education Leadership Intern (August 2017-October 2019)
Marie Diaz - Education Leadership Intern (June 2017-August 2017)
Anna Simmons - Leadership Intern (January 2015-May 2015)
Amy Lee - Leadership Intern (January 2015-March 2015)