We are pleased to announce Rhoda Green as our 2020 REEF Volunteer of the Year. Rhoda lives in the Seattle area, and has been a REEF member since 2000. She is one of REEF's most active surveyors, having completed 1,210 surveys for the Volunteer Fish Survey Project.
Of those surveys, the majority have been done in the Pacific Northwest, mainly in Washington State. She has also done some surveys in Hawaii. Rhoda was also the first to conduct REEF surveys in the Seychelles, part of our Indian Ocean/Red Sea (IORS) region.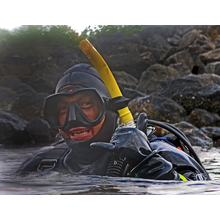 She is an Experience Level 5 surveyor in the Pacific Northwest and California, and a Level 2 surveyor in Hawaii. She conducted her 1,000th REEF survey in January 2019, making her a member of the Golden Hamlet Club.
Rhoda has been a member of the Pacific Northwest and California's Advanced Assessment Team (AAT) since 2006 and participated in fish survey projects in the Channel Islands National Marine Sanctuary, Monterey Bay National Marine Sanctuary, and the Olympic Coast National Marine Sanctuary.
One of Rhoda's greatest strengths is her ability to teach and lead others. She has been teaching Pacific Northwest fish and invertebrate ID classes and is directly responsible for mentoring many divers who are now expert level REEF surveyors, as well as introducing the joy of fishwatching to many beginners. She has led classes and dives for the Great Annual Fish Count for many years.
She is well-recognized and respected as a leader in the Pacific Northwest dive community, is a scuba instructor, and a superb critter spotter. She has assisted author Dr. Greg Jensen in obtaining photographs for his book Beneath Pacific Tides - Subtidal Invertebrates of the West Coast.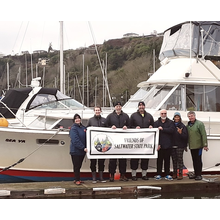 A few years ago, Rhoda conceived a project monitoring Saltwater State Park's Marine Protected Area. She organized the project, obtained funding, gathered the divers who are members of REEF's Pacific Northwest AAT, and executed the project, which is ongoing.
Rhoda is also the leader for one of REEF's Conservation Partners: Friends of Saltwater State Park, a non-profit organization that supports the park through volunteer efforts. Projects include subtidal surveys, McSorley Creek salmonid surveys and upland improvements.
We are so grateful for Rhoda's enthusiasm and dedication to REEF and our mission. Congratulations, Rhoda!