At the break of dawn on September 13th, 79 skilled lionfish hunters set out to compete in the Fifth Annual Key Largo Lionfish Derby. Vying for more than $3,000 in cash prizes, 22 participating teams brought in 573 lionfish to the John Pennekamp Coral Reef State Park during this sunrise to 5:00 pm event. Team We're No. 2 took 1st place for most lionfish with an impressive 154 lionfish. Team Strategery finished 2nd with 126 lionfish and Full Circle placed 3rd with 79 fish, edging out the fourth place Islamorada Dive Center by a single fish. Awards were also given for 1st through 3rd place for the largest and smallest lionfish caught. Team We're No. 2 also brought in the largest fish at 435 mm – the largest lionfish collected during this year's South Florida Derby Series. The largest fish also broke the old 2013 tournament record of 426mm. Key Dives took top honors for smallest fish with a miniscule 51 mm specimen. Following scoring, the fish were used to make delicious lionfish ceviche for derby participants, volunteers, and onlookers.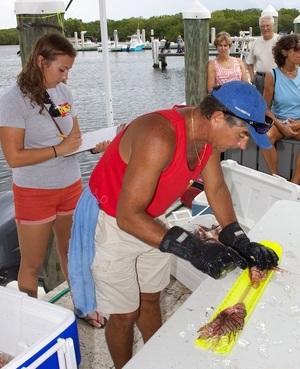 REEF's Lad Akins measures the lionfish caught during the derby. Photo credit: Carlos Estape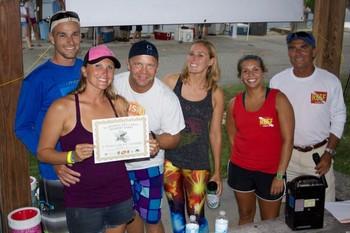 Team We're No.2 won 1st place for Most Lionfish and 1st place for Largest Lionfish. Photo credit: Carlos Estape.
The Key Largo Derby was the third and final event in the REEF 2014 South Florida Lionfish Derby Series. With additional derbies in Ft. Lauderdale and Palm Beach, 1,769 total lionfish were removed from South Florida waters. This year's derby was made possible through support and major sponsorship by John Pennekamp Coral Reef State Park, Florida Fish and Wildlife Conservation Commission, Zookeeper, Diver's Direct, Ocean Reef Conservation Association, the Florida Keys National Marine Sanctuary, and Norman's Cay restaurant as well as numerous local business and public donations.
Lionfish, native to the Indo-Pacific region, are an invasive species in the Tropical Western Atlantic and are causing significant negative impacts to native marine life throughout the region.  According to Dr. Stephanie Green, Oregon State University researcher, some sites in the Bahamas have seen 65-95% declines in native fish in a two year period.  Impacts to valuable food fish like grouper and snapper could cause damage to the economy and ecology of countries in the invaded range.  Regular removals and removal events are showing promise however, in reducing local lionfish populations and sizes.  Using scientific models, it is estimated that the 573 lionfish caught in this year's Key Largo Derby would have consumed between 1.2 million and 5.7 million prey fish in the following year had they not been removed.
For complete derby results and information on additional lionfish derbies throughout the region, visit www.REEF.org/lionfish/derbies