Contact:
Christine Ward‐Paige; Halifax, NS; globalshark@gmail.com, www.eShark.org

Boris Worm; Dalhousie University, Halifax, NS; bworm@dal.ca; (902) 494‐2478
Study is freely available here: http://dx.plos.org/10.1371/journal.pone.0074835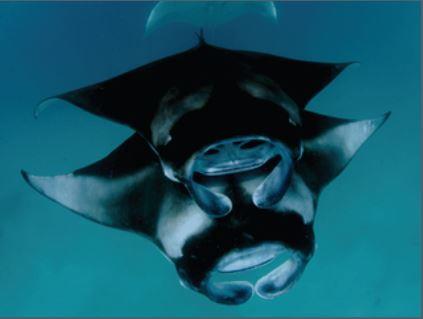 Manta rays feeding. Photo Credit: Manta Trust

Manta and devil rays are whale--‐like filter--‐feeding giants that predictably aggregate in a few areas of the world's tropical oceans, creating a large tourist draw for scuba divers and an easy target for fisheries.
In this new study, researchers from Dalhousie University and eShark.org used expert divers' observations to describe global manta and devil ray abundance trends and human use patterns. The study, published today in the peer‐reviewed journal PLOS ONE, highlights the relative rarity of aggregation sites on a global scale and reveals that many populations appear to be declining. The authors warn that newly emerging fisheries for the rays gill‐rakers likely exceed their ability to recover.
The study also demonstrates the deficiency of official catch reports, as only four countries have ever reported landing manta or devil rays – Indonesia, Liberia, Spain and Ecuador. However, numerous diver reports compiled here, illustrate that many other countries are regularly landing and selling these rays without reporting.
"Biologically, mantas and devil rays can only tolerate very low levels of mortality and likely cannot keep up with the current rate of exploitation and demand," said co-author Boris Worm, a marine biologist at Dalhousie University in Halifax, Nova Scotia.
Just this spring, Mantas were listed under CITES, the Convention on International Trade in Endangered Species of Wild Fauna and Flora, which means that they can no longer be traded internationally. Yet, the new results show that trade in these species may be more widespread than previously thought. "We are deeply concerned that massive underreporting can result in serious mismanagement of species, and rapid population declines," says Worm.
The study is innovative in creating an online 'citizen science' community that can rapidly track the status of endangered wildlife in the oceans. "In addition to describing important information on manta and devil ray populations, this study also highlights the value of the diving industry for providing essential biological data," says Christine Ward‐Paige, lead author and director of eShark.org. "I am interested in combining the observations of divers, snorkelers, fishers, and other 'eyes on the water', to assess changes in vulnerable species and habitats. This is the first time such a global census has been conducted. This work could not be done without the countless divers that took the time to submit their observations."
Editor notes:
373 divers participated in our eManta (a subsidiary of eShark.org) survey, submitting data from 616,498 dives over 90 cells in all major ocean areas where mantas are expected to occur.
Divers submitted 135,181 dives to the REEF database, covering Hawaii, the tropical eastern Pacific and the tropical western Atlantic; these data were used to verify the eManta survey.
Even with the very large number of dives, mobulids were observed in only a sma

ll number of the world's ocean cells (73/516), and where they

were present, sighting frequency was generally very low (<0.01 mobulids per dive, on average).
While ecotourism and protective measures were scattered across the globe, fishing and marketing of mobulids appeared concentrated in the Indian Ocean.
In the CITES Bangkok meeting, March 2013, the two manta ray species were added to the

 

Appendix II list, with 5 other shark species, joining the whale shark, basking shark, great white shark, and sawfish. They were the first rays ever to be listed under the treaty, which protects iconic wildlife such as tigers, elephants and rhinos, among many others.
The study was funded by the National Science and Engineering Research Council of Canada, with additional support by the Pew Charitable Trusts.