On Sunday, February 8 2015, 20 skilled, enthusiastic lionfish hunters braved high winds and choppy seas to compete in REEF's Third Annual Winter Lionfish Derby held at the Postcard Inn Beach Resort and Marina at Holiday Isle. Three teams participated in this year's derby and brought in a total of 99 lionfish during this sunrise to 5:00 pm event. Islamorada Dive Center took 1st place in the derby, bringing in a total of 86 lionfish. Team SFAEP That Fish Cray finished in 2nd place with 11 lionfish and Key Largo Drifters placed 3rd with 2 lionfish. Awards were also given for the largest and smallest lionfish caught during the derby. Islamorada Dive Center brought in the largest fish at 407 mm, while SFAEP That Fish Cray won the prize for smallest lionfish with a tiny 98 mm specimen.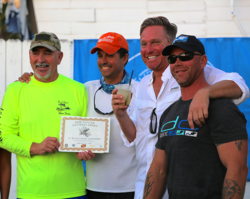 The winning team for most lionfish, Islamorada Dive Center. Photo credit: Erin Spencer
Despite a one-day delay due to inclement weather, many divers and snorkelers, marine conservation enthusiasts, members of the local community and Postcard Inn guests came to see the massive lionfish harvest, view dissection and filleting demonstrations and sample some lionfish recipes. After scoring, the fish were used to make delicious lionfish ceviche for derby participants, volunteers, and onlookers. In addition, Chef Rachel Ulbrich, Head Coach of Shula's 2 Steak and Sports Restaurant, prepared a unique and tasty fried lionfish dish, served with poblano pepper puree and topped with green papaya slaw.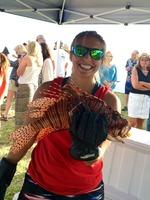 REEF's Elizabeth Underwood with the largest lionfish for this derby (407mm). Photo credit: REEF
Lionfish, native to the Indo-Pacific, are an invasive species in the Tropical Western Atlantic and are causing startlingly adverse impacts to native marine life and ecosystems throughout the region. According to Dr. Stephanie Green, Oregon State University researcher, some sites in the Bahamas have seen 65-95% declines in native fish in a two-year period. Lionfish consume large numbers of commercially valuable food fish, such as grouper and snapper, which could have detrimental long-term effects on the economies and ecologies of countries in the invaded range. However, regular removals and removal events, such as Lionfish Derbies, are showing promise in reducing local lionfish populations and sizes. Using scientific models, REEF has estimated that the 99 lionfish caught in this year's Winter Lionfish Derby would have consumed between 198,000 and 380,000 fish in the following year had they not been removed.
For complete derby results and information on additional lionfish derbies throughout the area, as well as other REEF Sanctioned Derbies, visit www.REEF.org/lionfish/derbies. To view more photos from this derby visit https://www.facebook.com/REEFLionfish.
Written by Amy Lee, REEF Communications Intern Leader