Most divers know of the invasive lionfish problem facing the Tropical Western Atlantic and of the role REEF has played in addressing education, outreach, research, and control. REEF has been a leader in addressing the invasion across the region and across many different platforms from government control plans to on the ground derbies and market development. REEF members have een a big part of these efforts through their participation including specially organized Lionfish Field Surveys. Since 2009, annual projects around the region have gathered data on lionfish populations and removed thousands of lionfish. These projects also provide important data and research samples to universities and government agencies to help us better address the invasion.
During the week long projects, either live-aboard or land based, team members are presented with training and opportunities to remove lionfish through spearing or hand netting. All collected lionfish are measured and some dissected on site to get valuable biological and impact information and some fish are prepared for team and public tastings to help promote the market for lionfish as a food fish. Team members can get fully immersed in as much of the collecting and research activities as they would like. Divers not wanting to take part in removals, still provide valuable sighting information and conduct REEF fish surveys to augment the long term data used to look at ecological changes.
A few examples of REEF project data include the four year project in Belize which documented the progression of the invasion. From zero fish seen or collected during the first year of the project to over 500 fish removed in a single week during year three, divers were able to document both the incredible explosion in numbers but also in sizes (Figure 1).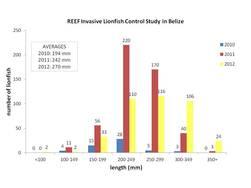 Projects in 2014 and 2015 took place in the seldom dived areas of the southern Bahamas. Results indicated that the numbers of fish may vary depending on the location, but the size distribution in unremoved areas is almost identical (Figure 2).
Finally, land-based work in Curacao from 2013-2016 showed the effects of removals and what happens when removals stop. With regular diver removals throughout the year, the average sizes of lionfish were reduced by more than 20% resulting in a reduction in predation impacts to native marine life of 37-55% and a reduction in reproductive output of more than 64%! Following the cessation of removals, however, sizes returned almost exactly to pre-removal levels in only a single year.
These trips are a great way to combine research with lionfish removal efforts to take an active role in addressing the lionfish invasion.