Bidding on items in the REEF Fest silent auction will begin on Thursday, Oct. 14. Bidding continues on Friday and Saturday during the seminars and evening socials. The auction closes Saturday night at For the Love of the Sea banquet.
Thank You
REEF greatly appreciates the support of the following businesses and individuals for donating to our the silent auction and raffle at REEF Fest 2021.
Backscatter Underwater Photography & Video
Bayside Inn Key Largo
CoCo View Resort
Gail Klepper
Jeffrey Haines
Jim Hellemn/Blue Ocean Art
Laurel Fulton
Malena Sharkey and Robert Minnick

 

Marta Bonatz
Nancy Perez
Ned and Anna DeLoach
New World Publications
Pura Vida Divers
Reef Divers
Shenebly Redland's Winery
Below are some highlights of the items that will be available for bidding in our silent auction:
---
Dive/Vacation Packages
---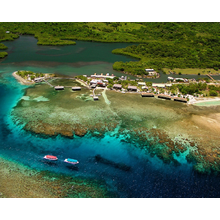 Roatan Dive Vacation Package - Value $2,000
Donated by CoCoView Resort
7 night stay at CoCo View Resort. Includes air-conditioned ocean-view accommodations, welcome drink, airport transfers, three daily meals, unlimited shore diving plus two boat trips daily; (each boat trip includes 1 moored site and 1 drop off dive tank on one of the walls in CCV's famous Front Yard), resort-wide wifi, use of kayaks and paddle-boards, musical entertainment and educational presentations.
Reef Divers Gift Certificate - Value $200
Donated by Reef Divers
$200 credit to be used toward a dive package at either Little Cayman Beach Resort, Cayman Brac Reef Resort, Cobalt Coast on Grand Cayman, or East Bay Resort in the Turks & Caicos Islands. Valid with any published dive package.
Blackwater Diving Package - Value $150
Donated by Pura Vida Divers and Ned and Anna DeLoach
Package includes a single tank blackwater drift dive in West Palm Beach with Pura Vida Divers, and an amazing 5" x 7" photo of a larval lionfish captured during a blackwater dive by Ned DeLoach. Printed on metallic paper.
Florida Keys Gift Basket
Donated by Bayside Inn Key Largo
Experience the best of the Florida Keys with this basket that includes various gift cards and vouchers to enjoy some of our favorite locally-owned spots, including a two-night stay at Bayside Inn in Key Largo.
Photography and Artwork
Reef Fish Behavior Book and Metal Print Package, Photographed by Ned DeLoach
Donated by Ned and Anna DeLoach
This package includes a signed copy of the second edition of Ned and Anna's book, Reef Fish Behavior and an 11" x 14" metal print of this special image from the book, featuring a group of Balloonfish.
"Seahorse and Sargassum in Blackwater", Original Photography by Jeffrey Haines
Donated by Jeffrey Haines
REEF surveyor Jeff Haines captured this amazing photo during a blackwater dive in south Florida. The photo won first place in the macro category of Scuba Diving magazine's 2020 photo contest. The 16" x 24" metal print is ready to hang in your home or office.
Metal Mermaid Print, Original Photography by Robert Minnick
Donated by Malena Sharkey and Robert Minnick
A beautiful, lightweight 12" x 24" metal print of a mermaid diving down to explore the ocean floor will make a great addition to any mermaid lover's home.
Metal Hammerhead Print, Original Photography by Robert Minnick
Donated by Malena Sharkey and Robert Minnick
This stunning metal hammerhead shark print measures 24" x 16" and is sure to brighten up any room.
Paradise Reef Quilt
Donated by Gail Klepper
Paradise Reef is a "one block wonder quilt" created by using seven quilt panels. All 100% quilting cottons with a sleeve to hang the quilt. Measures 50" w x 56" h.
Dive Gear, Jewelry, and More
Mermaid Tail Necklace - Value $50
Donated by Marta Bonatz
This unique mermaid tail necklace is from Gili, the first Indian jewelry brand. A must have for any ocean lover.
Aqualung Zuma BCD (Size ML/LG) - Value $480
Donated by Laurel Fulton
The fun, travel-friendly Zuma will find favor with those divers who are tired of paying excess baggage fees. This ultra-light, weight-integrated, back inflation BC has everything you need, yet lacks weight and bulk. Once you lift it, you'll feel for yourself. Size ML/LG weighs less than 2.2kg (4.75 lbs), with the airway and weight pockets included!
Gift Certificate to Backscatter - Value $250
Donated by Backscatter Photo and Video
Everyone's favorite online camera shop. If you use REEF's special link for your purchase, Backscatter will make a donation back to REEF!
. . . And More!