The Spiegel Grove is a 510' Navy Landing Ship Dock that was intentionally sunk off Key Largo, Florida, on June 10, 2002, to serve as a recreational diving and fishing artificial reef. The ship lies in 130' of water; at its broadest point the deck is 84' wide, creating a wall-like habitat from 45' to the sandy bottom. After the initial deployment, the ship was resting on its side. However, the Spiegel Grove was righted by Hurricane Dennis in 2005, and the top deck now lies in approximately 85' depth. At the time of its sinking, the Spiegel Grove was the largest vessel intentionally sunk. Monroe County, the Upper Keys Artificial Reef Foundation (UKARF) and the Florida Keys National Marine Sanctuary (FKNMS) worked closely to obtain, clean, scuttle and sink the vessel, as well as raise funds for the effort. Prior to the sinking, REEF was contracted by Monroe County to conduct a study with pre- and post-deployment monitoring on the fish assemblages of the Spiegel Grove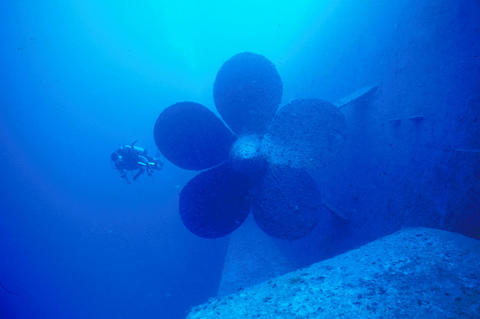 In 2002, REEF implemented a 5-year monitoring plan to document fish species presence/absence, sighting frequency and estimated abundance over time at the Spiegel Grove site and at 7 nearby natural and artificial reef sites. The primary goal of the monitoring was to document fish recruitment to the Spiegel Grove site, detect changes over time in the assemblage and compare patterns between sites.
Results
Between 6 and 8 Roving Diver Technique REEF surveys were conducted at each site during each monitoring period. Fish species rapidly colonized the Spiegel Grove following deployment. Forty-six species were documented on the wreck less than a month after it was deployed. During the five years of the monitoring project a total of 191 fish species have been documented on the artificial reef. The species composition of the Spiegel Grove just 5 years after deployment appears similar to that of the deeper, natural reefs such as Dixie Ledge and Red Can Ledges, and is least similar to that of the shallow reference sites including Benwood Wreck, Dixie Shoals, and Red Can Shallows.
Reports
REEF's Year One and Five-Year Spiegel Grove Monitoring Reports, submitted to the Florida Keys National Marine Sanctuary and Monroe County, are available for download below.
REEF Year One Spiegel Grove Monitoring Report (PDF)
REEF Five Year Spiegel Grove Monitoring Report (PDF)