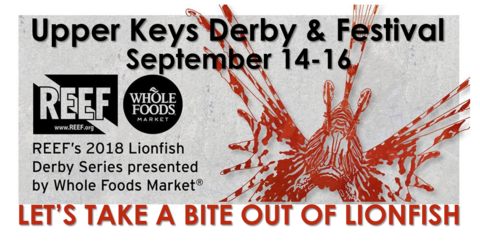 The last of REEF's 2018 Lionfish Derby series presented by Whole Foods Market is taking place in Key Largo at Pennekamp Coral Reef State Park, September 14-16, 2018.
Derby Schedule
Late registration:
Friday, September 14th - 5:30-6:30 pm for those teams not yet registered - John Pennekamp Coral Reef State Park Welcome Center, 102601 Overseas Hwy, Key Largo, FL 33037
Captain's Meeting:
Friday, September 14th - 6:30-7:30 pm for all teams - John Pennekamp Coral Reef State Park Welcome Center
***The Captain's Meeting is mandatory for the team captains, and all team members are encouraged to attend.The team captain must be one of the four participants in the derby, but does not need to be the captain of the boat. Safe collecting and handling techniques and Derby Rules will be reviewed. ***
Team RegistrationOnline WaiversDerby Rules
Lionfish Collection:
Saturday, September 15th - sunrise to sunset
Sunday, September 16th - sunrise to noon 
Derby Day: Sunday, September 16th at Pennekamp State Park - 12:00PM-1PM - all teams must check in at dock by 1:00PM - Boats can pull up to Pennekamp dock to check in.
Awards ceremony will begin after scoring is complete
KEY LARGO LIONFISH FESTIVAL September 16th 12-4PM

Live music by Key Largo's Cast Away, lionfish tastings, scoring, filleting and dissection demonstrations, games and other activites will take place starting around 12:00PM and are free and open to public. Raffle tickets will be sold for a number of prizes.
Culinary Competition:
People's Choice Voting 12:00-2:00PM
A people's choice culinary competition will be held in conjuction with the Key Largo Derby event. Participating chefs will be given the opportunity to showcase their lionfish creations and win up to $750 in prizes. Chef Registration is free. Space is limited. Set up begins at 10AM.
~3:00 pm: Raffle and Derby and Culinary Awards ceremony
Get the full experience at the Key Largo Lionfish Derby with a VIP Access Pass! The pass allows you to sample gourmet lionfish cuisine and vote on the best dish, receive two drink tickets and entrance to PenneKamp State Park. Participating chefs are from Chef Michael's, Atlantic's Edge of Cheeca Lodge and spa islamorada, fl, Chef Drew's Island Catering, CJ's on the Bay, Rainbow Reef Dive Center Catering and Ocean Reef Club.
or call 305-852-0030.

Cash prizes of up to $6,500 will be awarded to the participating teams who bring in the most, largest and smallest lionfish.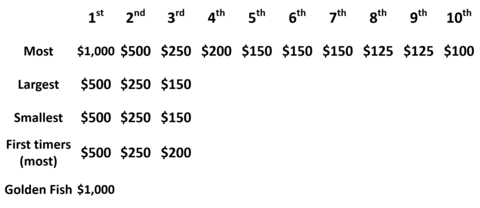 First Timers category is for teams (all team members) who have not participated in a REEF derby before. The Golden Fish Award will be run as a raffle. All officially entered teams are eligible. For each team checking in at the scoring station by 1:00pm on September 16 (all team members must check in), a single ticket will be issued, regardless of the number of lionfish removed, for a $1,000 cash drawing occurring at the awards ceremony.
All participants in each derby will also earn an entry into the drawing for a Atlantis Philippines-Dive Resorts & Liveaboards http://www.atlantishotel.com certificate for a 7 night dive vacation at either Atlantis Puerto Galera or Atlantis Dumaguete for one (1) person valued at $2,600.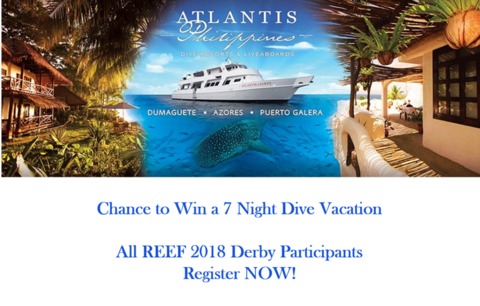 With all these chances to win you don't want to miss out!

Registration cost: $120.00 (2-4 people per team) Pay Registration Fee
HORIZON DIVERS LIONFISH DIVE TRIPS
Horizon Divers is running three dive trips in conjunction with the Lionfish Derby. Saturday the 15th in the morning and afternoon as well as Sunday morning. Interested parties should register their team on the REEF website and then call Horizon divers to make their booking. All normal charges still apply for booking the dive charter. They are only designating one of their boats so when calling it's important to say you are participating in the derby and want to hunt lionfish!.
Horizon Diver Phone:1-800-984-DIVE (3483)
Team RegistrationOnline Waivers
Thank you to our sponsors!