Reflecting back on 2022, we are in awe of the amazing progress we made together for marine conservation. This year, we made strides for healthy oceans through citizen science, research, and education.
We're proud to share some highlights of our year with you, and even prouder to call you a REEF member. Thank you for all you do to help us make an impact for our oceans, and our future!
Christy Pattengill-Semmens, Ph.D. and Martha Klitzkie
REEF Co-Executive Directors
---
Making a Difference for the Oceans
Together, we are conserving marine environments worldwide. Our mission is to protect biodiversity and ocean life by actively engaging and inspiring the public through citizen science, education, and partnerships with the scientific community.
We are using citizen science to study and protect ocean life, conducting innovative conservation science research, and engaging communities and individuals to take action for our blue planet. REEF's global impact would not be possible without you, and we are excited to share some of our highlights and proudest moments from 2022 with you.
Our Impact: 2022 by the Numbers
Here's a few highlights from REEF's work in 2022:
9,170 surveys submitted to the Volunteer Fish Survey Project database in 2022 (so far), resulting in 278,000+ surveys in the database conducted by over 16,000 volunteer citizen scientists since 1993
More than 600 participants from 42 states and 7 countries registered for the 3rd Annual Fish Out of Water Virtual 5K
1,345 total lionfish removed by participants in the 2022 REEF Lionfish Derby Series, including the 9th annual Earth Day Lionfish Derby, and the 13th annual Florida Keys Lionfish Derby & Festival, with over 400 attendees and over 20 vendors at the conservation festival
6 scientific papers have been published in 2022, using data and findings from the VFSP, Invasive Species, and Grouper Moon Project
17 curricula available for regions worldwide, including 2 new Fish ID curricula developed for Red Sea and Flower Garden Banks National Marine Sanctuary
34 education sessions provided at no cost to participants, with support from the Oceans for All Fund
6 multi-day Expeditions, including a weeklong program in Kona, Hawaii
70 in-person programs taught in the Upper Florida Keys, with more than half hosted at the REEF Campus in Key Largo
18 online programs for students in grades 3-12, including Virtual Field Trips and Virtual Case Studies
26 organizations or schools served, including both local and out-of-state groups
Nearly 2,000 individuals engaged through REEF Ocean Explorers Education Programs, from elementary school students to senior citizens
20 years of collaborative conservation research to monitor the endangered Nassau Grouper spawning aggregation in the Cayman Islands
10 Marine Conservation Interns and 3 Marine Conservation Fellows hosted
Together, we are...
Conserving marine environments worldwide. 
Fostering connections to the underwater world.
Studying and protecting endangered species. 
Educating tomorrow's ocean leaders. 
Mitigating the effects of invasive species.
Developing collaborative, science-based solutions.
Supporting diverse communities. 
click to view larger
Financials
REEF's values reflect the grassroots nature of our work. We make the most of every dollar donated and focus on programs with the highest conservation impact and community reach. Our work would not be possible without our donors, who lend critical financial support to our mission.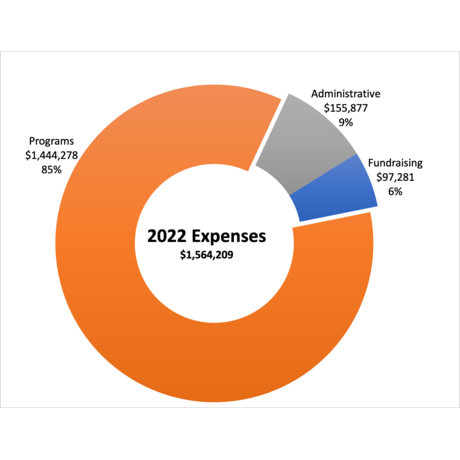 Looking Ahead
We have seen explosive growth in our conservation and education programs this year. We are so excited about all that is on the horizon. Thank you for all you do to help REEF make an impact for our oceans, and our future. Here's to all that we will accomplish together in 2023!
---
When you donate to REEF, you can give knowing that your donation goes directly to make a difference for our oceans. REEF has earned an exceptional 'Give with Confidence' rating on Charity Navigator, joining the less than 1% of charities with a perfect score for fulfilling our mission in a fiscally-responsible way while adhering to good governance and best practices. We also have a Platinum rating on GuideStar. This means your donation goes directly toward making a difference for our ocean.