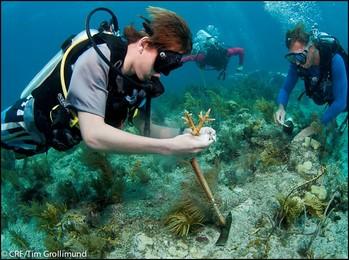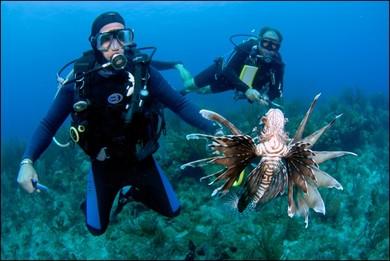 The Coral Restoration Foundation (CRF) and Reef Environmental Education Foundation (REEF) are partnering together for a monumental week of marine conservation work! Both organizations are teaming up to help replenish and relieve our local reefs. Two ground breaking events will occur back to back with the goal of smashing local records and giving back to the Florida Keys marine environment that we know and love.
    Starting off the week will be a presentation from CRF's coral experts detailing the importance of their efforts to plant and help replenish our dwindling local Staghorn and Elkhorn coral populations. Learning about this environmental obstacle will be followed by a day of coral out-planting! This is when the real fun begins as CRF will be aiming to top their record for the most corals planted in the Florida Keys in a single day! With a previous record of 500 coral planted, they've got their work cut out!
    Next, it will be REEF's turn to step up to another challenge that our local reefs face, invasive lionfish. A presentation will be held at John Pennekamp Coral Reef State Park describing the damage these pesky foreigners have caused and why they need to go. This will prepare you for the following day's local Lionfish derby! There, REEF and its many participants will try to break the Florida Keys record of most lionfish caught in a day. With a whopping number of 707 lionfish to beat, they're determined to make this derby count!

REEF

    Reef Environmental Education Foundation (REEF) is a grass-roots organization that seeks to conserve marine ecosystems by educating, enlisting, and enabling divers and other marine enthusiasts to become active ocean stewards and citizen scientists. The Invasive Lionfish Research program aims to educate and enlist the public in the removal of this invasive species. 

See more at: www.reef.org/lionfish

CRF

    The Coral Restoration Foundation (CRF) is a nonprofit conservation organization dedicated to creating offshore nurseries and restoration programs for threatened coral species. CRF is leading the development of new nursery and restoration techniques. Tens of thousands of corals are grown and maintained in multiple offshore nurseries. After a year in the nursery, corals are relocated to local degraded reefs in a process known as "outplanting". With the help of students, volunteers, scientists, dive operators, public aquariums, and community groups, thousands of corals grown in CRF's nurseries have already been out-planted on coral reefs. 

See more at: http://www.coralrestoration.org/our-mission/

    CRF is leading the development of offshore nursery and restoration methods to preserve unique genetic lineages of Staghorn and Elkhorn coral for research and restoration purposes. Staghorn (Acropora cervicornis) and Elkhorn (Acropora palmata) were once the dominant reef building corals in the Florida Keys and Caribbean. Due to multiple stressors in the late 1970s and early 1980s, the populations of these two species has declined dramatically, leaving the remaining corals scattered and facing local extinction.
    Tens of thousands of corals are produced through pioneering propagation techniques and housed in multiple offshore nurseries. Corals are maintained and strategically out planted on local reefs to promote genetic diversity during spawning events. CRF continues to collaborate closely with other organizations to further develop strategies for restoring threatened species.
    Lionfish are widely dispersed throughout the Atlantic, Caribbean, and Gulf of Mexico, yet a large portion of the general public still does not know about the problem. In addition, there are many myths regarding the biology and ecology of lionfish. Lionfish derbies serve to combat such misinformation by educating participants and the public and in turn raising awareness of the problem. Significant local, national, and international media coverage of derby events has helped facilitate education to those not geographically connected to the invaded range. Ongoing research studies indicate that single day removal events can be highly effective in lowering the local lionfish population. For example, in the first ever lionfish derby in 2009, participants removed 1,408 lionfish from Green Turtle Cay, Abaco, Bahamas. Because lionfish have no controlling predators in the invaded range, diver removals are one of the few effective means of reducing the lionfish population at present.

    You can support this exciting week of record breaking events by pledging a financial match to REEF and CRF for the combined number of corals planted and lionfish caught. You can pledge any amount from one penny or more. For example, let's say 500 lionfish are removed and 500 corals are planted, if you pledged a nickel, your total donation amount would be $50. No pledge is too small, even a penny pledge makes a difference! All donations are tax deductible and the proceeds will fund the marine conservation programs of CRF and REEF.

Click here to make your pledge today!



Wednesday, September 10th:
Free presentation at CRF about coral restoration and how you can get involved. 
           Location: Coral Restoration Foundation, 5 Seagate Blvd Key Largo, FL 33037
           Time: 6:30PM
Thursday, September 11th:
Coral plant-a-thon day by the CRF Team!
            Location: to be determined
            Time: All day
Friday, September 12th:
Free presentation about the impacts of invasive lionfish and safe collecting and handling techniques. The evening also includes the Captain's Meeting for teams participating in the derby.
            Location: John Pennekamp Coral Reef State Park, 102601 Overseas Hwy, Key Largo, FL 33037
            Time: 5:30PM for late registration, 6:30PM Captain's Meeting
            For more info about the Key Largo derby please click here
Saturday, September 13th
The Lionfish derby starts at sunup and all lionfish must be at the scoring station by 5pm. Scoring, dissection demonstration, lionfish tasting, and awards presentation start at 6:00 and are open to the public. 
             Location: John Pennekamp Coral Reef State Park, 102601 Overseas Hwy, Key Largo, FL 33037
             Time: 5PM scoring begins
For more information on Corals In & Lionfish Out, contact:
REEF at (305) 852 – 0030 or reefhq@REEF.org
CRF at (305) 453 - 7030 or programs@coralrestoration.org