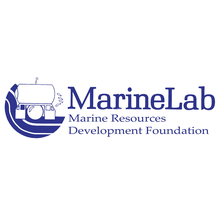 REEF's Citizen Science Saturday program for June is a
Seagrass Monitoring Workshop
organized in partnership with MarineLab Environmental Education Center.
Seagrass meadows cover much of the seafloor in the Florida Keys National Marine Sanctuary and are a vital habitat in our coral reef ecosystem. They act as a nursery and feeding grounds for animals including manatees, sea turtles, dolphins, and a variety of reef fish and invertebrates. Any significant loss of this productive habitat could result in negative impacts on the ecosystem, including reduced invertebrate and fish populations on our reefs.
Join us for a presentation by MarineLab staff about seagrass ecosystems, threats, and why it is important. MarineLab has partnered with Seagrass Watch, an international seagrass monitoring and assessment program, to conduct quarterly surveys at three permanent sites in the Florida Keys. A seagrass survey program has also been integrated into MarineLab's curriculum, and MarineLab's instructors will explain how to conduct the surveys. After the classroom lesson we will head straight to MarineLab for a short land-based survey practice and swim test, followed by a boat trip to conduct seagrass monitoring surveys while snorkeling. Afterwards, participants may join a seagrass data analysis workshop with MarineLab staff.
---
Schedule and Details
Classroom Session

Location: REEF Interpretive Center (98300 Overseas Hwy. Key Largo, FL 33037.)

Time: 9-10am

Cost: Free to attend. If you wish to attend only the class, please reserve a seat by e-mailing brittany@REEF.org.
Snorkel Survey Trip and Data Analysis

Location: MarineLab (51 Shoreland Dr. Key Largo, FL 33037)

Time: 10:15am-12:45pm
• 10:15 am: Arrival at MarineLab; survey land practice
• 10:45 am: Mandatory lagoon swim test
• 11:00-12:00pm: Boat trip to conduct seagrass surveys
• 12:15-12:45pm: Seagrass data analysis (optional)

Cost: $35 per person. Please register and pay directly with REEF by following the steps below.

Boat space is limited. Registration is on a first-come, first-served basis.

All boat trips are subject to change based on weather and other conditions.
---
Payment and Registration Form
There are two steps to register. Please complete both of the following steps.
Step 1. Click here to fill out registration form.
Please register by 3pm EST on Friday, June 21.
Step 2. Click here to pay for this event.
---
Frequently Asked Questions
What do I need to bring?
Snorkel participants should wear a swimsuit, and bring a towel, reusable water bottle, sun protection (hat/sunglasses), ocean-friendly sunscreen, and snorkel gear including a mask, fins, and snorkel. If you do not have your own snorkel gear, MarineLab will provide it.
What happens after I register?
Shortly after you submit your registration form, one of our staff will send you a confirmation email. You will also be asked to complete a REEF liability waiver online. All snorkelers will complete a MarineLab waiver in person on the morning of the event.
What is the cancellation policy?
All trips are subject to change based on weather and other conditions. Due to the nature of the event and limited space, no refunds are available for cancellation or no shows. You will receive a full refund for the boat trip if the operator cancels that day's trip, however, we are not able to offer refunds for this event under any other circumstance.
What is Citizen Science Saturday?
Citizen Science Saturday is REEF's new monthly program to engage Florida Keys residents and visitors in a variety of citizen science projects to increase environmental awareness and stewardship. For more information or to see past programs, click here.