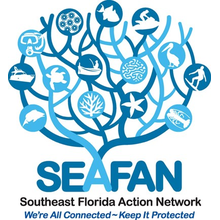 REEF's Citizen Science Saturday program for May is a
Stony Coral Tissue Loss Disease Workshop and Training,
organized in partnership with Florida Sea Grant and University of Florida IFAS Extension.
What is stony coral tissue loss disease?
Scientists, policy makers, and the public are responding to a disease event affecting the continental United States' only living barrier reef. Florida's coral reefs are experiencing a multi-year outbreak of stony coral tissue loss disease (SCTLD.) While disease outbreaks are not uncommon, this event is unique due to its large geographic range, extended duration, rapid progression, high rates of mortality and the number of species affected. The disease is thought to be caused by bacteria and can be transmitted to other corals through direct contact and water circulation. Researchers are working to identify potential pathogens and relationships with environmental factors, strategies to treat diseased colonies, and identify genotypes of corals that are resistant to the disease. In an effort to learn more about the extent of stony coral tissue loss disease, Florida Sea Grant agents in South Florida are training recreational divers to conduct surveys.
What can I do to help?
Join us for a free morning classroom session to learn how to identify and report SCTLD as a citizen scientists. The workshop will include a presentation, coral ID review, and then a test of the 11 early onset and intermediately affected corals, with and without the disease. Attendees will have the opportunity to receive a level 1 certification (identifying coral types) or level 2 certification (identifying coral species.) This workshop is useful for those who are interested in assisting local agencies with monitoring coral disease progression and recovery within the Florida Reef Tract.
Following the classroom session is an optional afternoon 2-tank dive to participate in an underwater surveillance training using roving diver surveys. After the dive, participants will complete a data sheet and will need to upload their data to the Florida Department of Environmental Protection's SEAFAN website.
---
Schedule and Details
MANDATORY Classroom Portion

Location: REEF Interpretive Center (98300 Overseas Hwy. Key Largo, FL 33037.)

Time: 9-11am

Cost: Free to attend. Please pre-register. If you wish to attend only the classroom portion and not the dive, please RSVP by e-mailing brittany@REEF.org.
Optional Dive

Location: Pirates Cove Watersports (103800 Overseas Hwy. Key Largo, FL 33037)

Time: 12:30 pm check in. 1pm departure; expected return to dock approximately 5pm.

Cost: $85 per diver. Please register and pay directly with REEF by following the steps below.

Dive boat space is limited. Registration is on a first-come, first-served basis.

All dives are subject to change based on weather and other conditions.
---
Payment and Registration Form
There are two steps to register. Please complete both of the following steps.
Step 1. Click here to pay for this event.
You do not need to call the dive shop to register for this event.
Step 2. Click here to fill out registration form.
Please submit this form before 3pm EST on Friday, May 3. The dive operator's waiver will be completed in person at the dive shop on the day of the event.
---
Frequently Asked Questions
What if I need rental gear?
Please contact the dive shop to make arrangements for rental gear. All costs for rental gear will be paid directly to the dive shop. Tanks and weights are included in the cost of the dive trip and do not need to be reserved in advance.
What happens after I register?
Shortly after you submit your registration form, one of our staff will send you a confirmation email. You will also be asked to complete a REEF liability waiver . Any other necessary paperwork, such as dive shop waivers, will be completed in person on the day of the trip. 
What is the cancellation policy?
All dives are subject to change based on weather and other conditions. Due to the nature of the event and limited space, no refunds are available for cancellation or no shows. You will receive a full refund for the dive cost if the dive operator cancels that day's trip, however, we are not able to offer refunds for this event under any other circumstance.