We are excited to share that Ned and Anna DeLoach of REEF's Board of Trustees will be joining us as special guests and speakers for the 10th anniversary of REEF Fish & Friends! Ned and Anna are renowned marine life authors and celebrated underwater naturalists. In June 2015, Scuba Diving magazine honored them as Sea Heroes. Their presentation, "Always Another Adventure" will include photos, videos and stories of their latest Indonesian fish and critter hunting escapades - from six-inch, surge-swept lava flows, to the dark depths of the open sea at night. Be prepared to learn more than you ever wanted to know about lusty Blennies, Sapphirina Copepods and the Argonaut Octopus!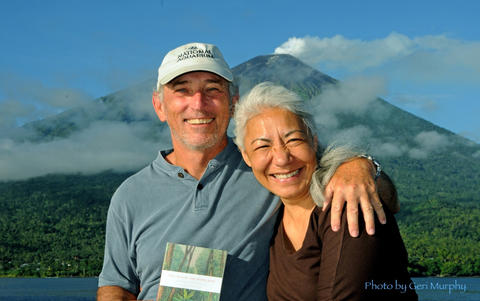 Ned DeLoach
is a marine life photographer who has made innumerable contributions to our understanding of the underwater world. He co-founded REEF with Paul Humann in 1990, and has co-authored a vast array of marine life identification books. Ned spent his early adult life working as a teacher in Jacksonville, FL, a facet of his life that is still regularly manifested in his work today. Ned's extensive work in his field is evident through his contributions to a variety of media. He founded New World Publications in 1972 and published his
Diving Guide to Underwater Florida
in 1979. In 1985, he became editor-in-chief of
Ocean Realm
magazine. Ned has written and supplied photos for numerous other literary publications as well, including
Alert Diver
and
Scuba Diving Magazine.
He has also produced multiple underwater documentaries.
Anna DeLoach
is a talented videographer, underwater naturalist, computer scientist, and founder of the blog BlennyWatcher, a popular marine life blog. She is a zealous traveler and a determined researcher, constantly striving to find the obscure species in their natural habitats. Anna is also an active contributor to a number of popular magazines, having written for
Alert Diver, Ocean Realm,
and
Scuba Diving Magazine,
among others. In 2004, Anna produced Sensational Seas, a successful marine life DVD, as well as its sequel. She produced the video, REEF Fish Identification: A Beginning Course, which won a Telly Award. Anna's work has been used by National Geographic, the Discovery Channel, NOAA, and many other organizations. In 2011, Anna was inducted into the Women Divers Hall of Fame.
---
About REEF Fish & Friends
REEF Fish & Friends is a free, monthly seminar series that features engaging ocean-themed presentations from guest speakers. Snorkelers, divers, and marine life enthusiasts are invited to join informal discussions and mingle with members of our friendly, ocean-minded community. Complimentary appetizers and refreshments are provided. The evening kicks off with a social starting at 6:15pm, and the presentation begins at 7pm.