Thanks for your interest in REEF Fish & Friends! We are pleased to welcome our February speaker: Jessica Pate, Project Manager for Marine Megafauna Foundation's Florida Manta Project.
Jessica will discuss manta ray biology and global manta ray conservation, and share discoveries that she has made about Florida's manta rays. You will also find out how to become a citizen scientist and contribute to important manta ray research.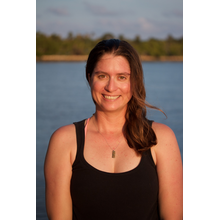 Jessica Pate
has an undergraduate degree from UNC-Chapel Hill and a graduate degree from Florida Atlantic University. She has studied sea turtles in Florida, Central America, and West Africa. She has also taught marine biology on traditionally rigged schooners and has crossed the Atlantic Ocean by sail. In 2016, Jessica started the Florida Manta Project to study the biology and ecology of manta rays in South Florida.
---
REEF Fish & Friends is a free, monthly seminar series that features engaging ocean-themed presentations from guest speakers. Snorkelers, divers, and marine life enthusiasts are invited to join informal discussions and mingle with members of our friendly, ocean-minded community. Complimentary appetizers and refreshments are provided. The evening kicks off with a social starting at 6:15pm, and the presentation begins at 7pm.