Join us September 13-15th, 2019 for REEF's 10th Annual Upper Keys Lionfish Derby & Festival
hosted by Postcard Inn, Islamorada

Upper Keys Derby Schedule 
Late Registration:
Friday, September 13th from 5:30-6:30pm 
REEF Headquarters; 98300 Overseas Highway, Key Largo, FL, 33037
Team RegistrationDerby WaiverDerby Rules
Captain's Meeting:
Friday, September 13th from 6:30-7:30pm (Late Registration 5:30PM)
REEF Headquarters; 98300 Overseas Highway, Key Largo, FL, 33037         
                                    
***The Captain's Meeting is mandatory for the team captains, and all team members are encouraged to attend. The team captain must be one of the four participants in the derby, but does not need to be the captain of the boat. Safe collecting and handling techniques and derby rules and permits will be reviewed.   IMPORTANT: This year we are allowing for remote attendance of the Captain's Meeting via Go To Meeting (details will be emailed out). To get approval to attend the captains meeting remotely a member of the team must call REEF Headquarters and speak with Alli Candelmo 305 852 0030***  
---
Fishing: 
Saturday September 14th, 2019 Sunrise: Teams may begin collecting lionfish                                                               
Sunday September 15th at Postcard Inn, 84001 Overseas Hwy, Islamorada, FL 33036
1:00 pm: All lionfish must be turned into the scoring station (Postcard Inn)
1:00-3:00 pm: Scoring and public activities including lionfish tastings
Awards will immediately follow scoring (3:30 pm)    
---
Registration cost: $120.00 per team (minimum 2 people per team, maximum 4 people)
Lionfish scoring, fillet and dissection demonstrations, Lionfish tastings, games, raffle prizes and other activities will start at 12:00PM and are open to public. Chefs will be providing lionfish cooking demostrations and tastings at the Tiki Bar. 
We are inviting local nonprofits, government organizations and artisinal vendors to set up a booth at the event. Apply here. 
Teams Can Sell Your Fish
Teams with a FWC Saltwater Fishing License will have the option to sell a portion of their lionfish after the scoring at the derby. If you don't have your license apply for it today online.
You also need to complete Halperns Steak & Seafood Vendor form (form attached at bottom of this page). Halperns will be onsite to purchase your fish September 15th.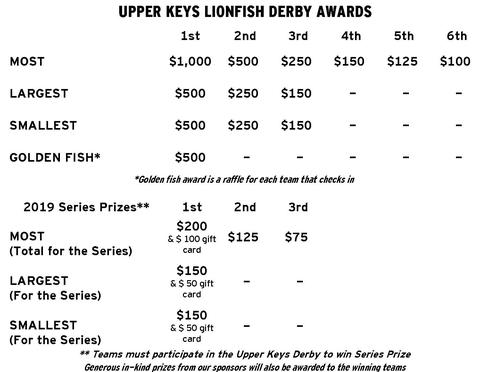 Teams will receive a raffle ticket for every five fish they donate towards the derby
---
Special Thanks to our 2019 Sponsors and Hosts!
Activities occurred within NOAA Florida Keys National Marine Sanctuary under permit













---