The Atlantic Goliath Grouper (Epinephelus itajara) approached local extinction in US waters by the 1980s as a result of intense fishing pressure. In 1990, federal and state laws intervened to protect this species and instituted a complete ban on take. This fishery closure has allowed limited, slow population recovery in Florida waters, while populations outside of the United States have remained vulnerable. Because of its no-take status, the REEF Volunteer Fish Survey Project (VFSP) dataset has been an invaluable source of information on the status and trends of Goliath Grouper in Florida and throughout its range.
Through several analyses, REEF data have demonstrated an overall scarcity of Goliath Grouper throughout Florida, with some increases in sighting frequency at localized sites since the start of REEF's citizen science data collection in 1993. According to REEF data, outside of Florida, Goliath Grouper are virtually absent throughout their historic range, which extends through the greater Caribbean and south to Brazil.
Top predators like Goliath Grouper are essential in maintaining a balanced ecosystem by controlling mid-level predator populations, such as invasive lionfish. There is anecdotal evidence that Goliaths are consuming lionfish and that lionfish numbers are reduced on artificial structures that also contain Goliaths.
---
Research from Florida State University
Over the last 20 years, a team of researchers at Florida State University has incorporated REEF data in their analysis to evaluate patterns of recovery of protected Atlantic Goliath Grouper throughout the SE US. Their scientific findings have resulted in a body of work that has been critical in managing the species. The REEF dataset has helped the team verify juvenile habitat, identify patterns of recovery, and document the positive effect they have on reef systems of Florida and on the occurrence of spawning aggregations. Three peer-reviewed scientific publications have resulted from their work (Koenig et al 2007, 2011, and 2017).
Koenig, C. C., F. C. Coleman, A-M. Eklund, J. Schull, and J. Ueland. 2007. Mangroves as essential nursery habitat for Goliath Grouper (Epinephelus itajara). Bulletin of Marine Science 80:567-585. Click here to read more.
Koenig, C. C., F. C. Coleman, and K. Kingon. 2011. Pattern of recovery of the Goliath Grouper Epinephelus itajara (Lichtenstein, 1822) population in the southeastern U.S. Bulletin of Marine Science 87: 891-911. Click here to read more.
Koenig, C. C., L. S. Bueno, F. C. Coleman, J. A. Cusick, R. D. Ellis, K. Kingon, J. V. Locascio, C. Malinowski, D. J. Murie, and C. D. Stallings. 2017. Diel, lunar, and seasonal spawning patterns of the Atlantic goliath grouper, Epinephelus itajara, off Florida, United States. Bulletin of Marine Science. dx.doi.org/10.5343/bms.2016.1013. Click here to read more.
---
Actions on Florida Fish and Wildlife Conservation Commission (FWC) Considerations to Ease Harvest Restrictions in May 2021
In May 2021, researchers from Scripps Institution of Oceanography (SIO) submitted a summary of an analysis of Goliath Grouper sightings in Florida based on REEF's Volunteer Fish Survey Project data to the Florida Fish and Wildlife Conservation Commission (FWC) in response to potential changes in protection for the species. FWC asserted that Goliath Grouper population increases have occurred in Florida waters, and therefore some modified take options are warranted. As such, FWC considered opening a tag lottery to allow harvest of 100 Goliath Grouper per year for a four-year period. 
REEF's Volunteer Fish Survey Project has leveraged citizen science divers to survey fish abundances through Florida since 1993. During this time, divers have conducted tens of thousands of surveys in Florida, collectively adding to a database that represents the best available information relevant to Goliath Grouper populations through time. Using these data, SIO researchers carried out a Bayesian index standardization to probabilistically model densities over the last 27 years.
Based on the analysis led by Dr. Dan Greenberg, it appears that Goliath Grouper experienced steady population growth in Florida from exceptionally low levels from the 1990s until 2010. However, over the last decade, this population recovery has either ceased or even reversed (Fig 1, below). The reason for this stagnation and decline is unclear, although regulation via carrying capacity is unlikely given the persistently low absolute density across time.

Given the apparent stagnation or reversal in recovery for the species in recent years, any added fishing mortality will almost certainly precipitate population decline. The authors of this study therefore recommended that the moratorium on harvest for Goliath Grouper be continued.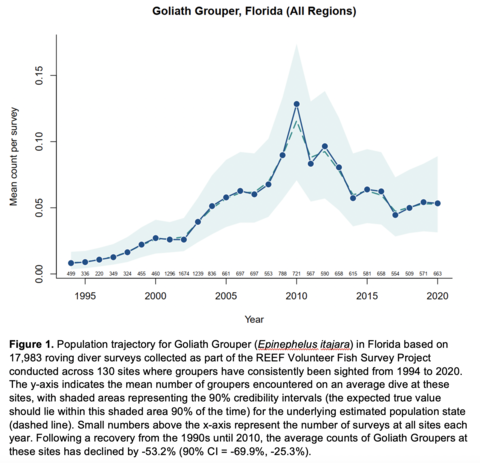 ---
Other papers that have included REEF data on Goliath Grouper are:
Thorson, JT, MD Scheuerell, BX Semmens, and CV Pattengill-Semmens. 2014. Demographic Modeling of Citizen Science Data Informs Habitat Preferences and Population Dynamics of Recovering Fishes. Ecology. 95 (12): 3251-3258. dx.doi.org/10.1890/13-2223.1. Click here to read more.
Shideler, GS, DW Carter, C Liese, JE Serafy. Lifting the goliath grouper harvest ban: angler perspectives and willingness to pay. Fisheries Research. January 2015. 161: 156-165. Click here to read more.
Koenig CC and FC Coleman. 2009. Population density, demographics, and predation effects of adult goliath grouper. MARFIN Project (NA05NMF4540045) NOAA/NMFS Final Report. 79. Click here to read more.
Porch CE and AM Eklund. 2004. Standardized visual counts of goliath grouper off south Florida and their possible use as indices of abundance. Gulf of Mexico Science. 2004(2): 155-163. Click here to read more.
Kingsley, M.C.S., ed. 2004. The goliath grouper in southern Florida: assessment review and advisory report. Southeast Data and Assessment Review. 7: 17. Click here to read more.
---
To view a summary report of Goliath Grouper sightings currently in the REEF VFSP database, click here.