Save the reef, wear lionfish jewelry!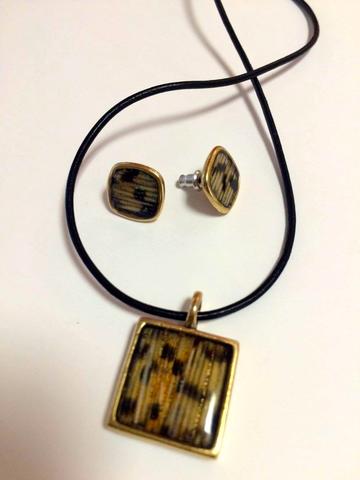 A fish as beautiful as it is destructive; invasive lionfish have had dramatic impacts on marine ecosystems due to their high reproductive rate and voracious appetites. These visually stunning fish have characteristic red and white stripes and long, fanlike spines and fins. 
REEF's Lionfish Jewelry Workshops encourage a consumer market that promotes lionfish removal. To get your creative juices flowing, workshops begins with beverages—alcoholic and non, served in a complimentary REEF wine or pint glass! Following a bit of socializing with fellow jewelers, REEF will provide an overview of the background of the invasion, biology/ecology of lionfish, impacts, current research findings, collecting tools and techniques, market development and ways for getting the community involved. Workshops leaders will then provide a step-by-step  tutorial on how to make lionfish jewelry, and participants can begin crafting their own customized jewels from  a selection of treated lionfish fins. While jewelry creations are in progress, light snacks  passed and free drink refills are offered. The jewelry created at the workshop will be ready to take home that evening!   
 *Please note: All of the Lionfish used in our workshops are locally speared or netted by volunteer divers. Following capture, the lionfish fins and spines are carefully removed and treated before it is handcrafted into earrings, bracelets, necklaces and more!
The $30 program fee includes:
Materials for jewelry pieces to take home (necklace pendant, earring pendants, cotton necklace cord)
REEF wine or pint glass to take home
Jewelry making materials (Resin, UV lamp, tools, lionfish fins, etc.)
Presentation and tutorial
Wine, beer, non-alcoholic beverages & light snacks
Great company and atmosphere!
You can upgrade your necklace type to a Sterling Silver Chain (16") or a Rolo Silver Chain (24") for $10 extra.
Materials for creating additional jewelry pieces may be available.  Details will be provided at the workshop. 
Upcoming Workshop Dates: 
New schedule coming soon.
Workshops are held at REEF Headquarters (98300 Overseas Highway, Key Largo FL) from 7-9pm.
TO REGISTER:
Click here to fill out the registration form for an upcoming workshop or call REEF at 305-852-0030 to reserve your spot.  
In order to ensure your space, please pay online or call 305-852-0030 to pay over the phone.
Instructional Resources:
=======================================================================
Can't attend this workshop? Want to attend in the future?
Workshops are periodically scheduled in the Florida Keys. If you would like to be put on an email list and receive notifications when workshops are scheduled, join the future jewelry workshop waitlist.