This month, REEF is proud to highlight one of our outstanding Conservation Partners: Scuba Center in Eagan, Minnesota. REEF Conservation Partners are active organizations and dive shops dedicated to protecting marine environments. As valued REEF ambassadors, they teach fish ID classes, host survey dives, organize volunteer events and more. Read on to find out how you can get involved with these centers of conservation action!
With more than 80 partners across the country and beyond, there are plenty of opportunities to engage! You can see the full listing of Conservation Partners or register your business or organization as a REEF Conservation Partner here: www.REEF.org/conservation-partners.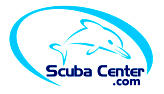 Scuba Center - Eagan, MN
Scuba Center has been teaching scuba diving classes since 1973 as Minnesota's first PADI 5 Star Training Facility and has grown to become the state's largest scuba diving school. Scuba Center has two physical locations - Eagan and Minneapolis. As an extremely active Conservation Partner who adds conservation efforts into many of their trips and shop programs, Scuba Center shares information about REEF, hosts monthly Fish Nights (sometimes livestreaming Fishinars!), and arranges a Lionfish Night each year, showing REEF-sanctioned lionfish presentations and demonstrating how to use lionfish removal equipment.
Conservation Actions - How can you get involved?

• Visit the shop to learn about REEF, attend a Fish Night, or sign up for one of their popular trips! Even though they are located far from the ocean, Scuba Center has a dedicated group of marine conservation enthusiasts who complete REEF surveys when they travel to dive.

• Attend a Fish Night! Fish Nights are free, fish-focused presentations, held on Wednesdays about once a month. Each Fish Night has a different topic, including content created by the Scuba Center staff or a REEF Fishinar screening. Fish Nights are open to everyone (divers, non-divers, friends, family, and kids) and there are usually snacks provided!

• Scuba Center has a very avid group of lionfish hunters who have turned a number of shop trips into their own personal lionfish derbies. On a recent trip to Belize, nine divers harvested more than 160 lionfish during the trip, including 119 on one day!

• Scuba Center also works with a scuba club at a local high school to introduce students and teachers to REEF The staff provides lessons on fish identification and teaches students how to conduct REEF surveys before their annual trip.
Why is conserving marine environments important to Scuba Center?

Scuba Center has been teaching diving in MN for more than 40 years. We can see the effects of pollution, runoff, trash, and invasive species in our local lakes where we do both training and fun dives. We still do a lot of local diving, but most of our divers also love to travel to dive to see the beautiful ocean environments all over the world. We want to protect those environments so we can continue to enjoy them and encourage new divers to get out there and experience them as well!
For more information, visit Scuba Center's website or check them out on Facebook.