In the summer of 2014, recreational divers in Florida and the Bahamas will once again assemble teams, scout out hundreds of sites, sharpen their spears, ready their nets, and hone their collecting skills to prepare for yet another REEF summer lionfish derby series. Their mission: remove lionfish. Their reward: more than $3,500 in cash prizes for bringing in lionfish and the knowledge that they are helping to save native fish populations.
Invasive lionfish are voracious predators from the Indo-Pacific that threaten Florida's marine ecosystems by devouring more than seventy species of native fish and invertebrates. Defended from predators by 18 venomous spines, lionfish rule the reefs and reproduce as often as every four days, year round. Though lionfish may seem unstoppable, divers can significantly reduce local populations and allow native fish populations to recover. Lionfish derbies are single day removal events that serve to educate the public, train divers in removal techniques, provide samples for researchers, encourage market development and remove thousands of lionfish.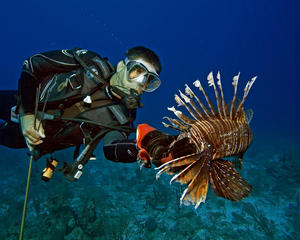 Although lionfish have no controlling predators in the invaded range, diver removals are an effective method of reducing lionfish populations. ©REEF
Reef Environmental Education Foundation (REEF) has set the following dates for their 2014 derby series:
 

June 28

th

—Sixth Annual Green Turtle Cay Derby on Green Turtle Cay, Abacos, Bahamas

 

July 19th

—Third Annual Teeples Memorial Derby in Fort Lauderdale, FL

 

August 16th

—Fourth Annual Palm Beach County Derby

 

September 13th

—Fifth Annual Key Largo Derby
Additional "Sanctioned Derbies" will take place throughout the year in various locations.
Current derby sponsors for this year's series include Green Turtle Club, 15th Street Fisheries, Sailfish Marina, the Florida Park Service, Brendal's Dive Center, Ocean Reef Conservation Association, Florida Fish and Wildlife Conservation Commission, Michelle Nicole Lowe Art, Divers Direct and Zookeeper.
Hopes are high for the summer derby series, as divers removed 2,790 lionfish in these single day events in 2013. All are invited to compete and to participate in the derby festivities. Mandatory Captain's meetings will be held the day before the derby. On derby day, spectators are encouraged to attend and taste free lionfish samples. Registration and further information are at www.REEF.org/lionfish/derbies.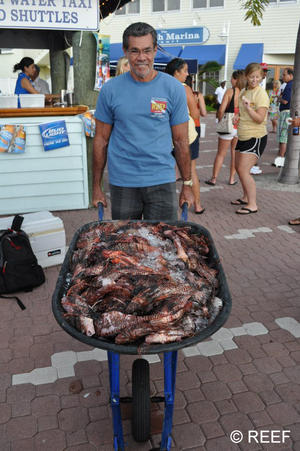 Derbies are capable of removing thousands of invasive lionfish in a single day.  
REEF is widely recognized as a leading authority in lionfish research, removal practices and educational outreach. REEF partners with scientists and government agencies to conduct lionfish research and engage stakeholders in removals. These activities are integral to local, national and international plans and strategies addressing the invasion. For more info visit www.REEF.org/lionfish.