For the sixth year in a row, avid lionfish hunters on Green Turtle Cay set out at the crack of dawn on June 28th to participate in the world's longest running lionfish derby. Conditions on the water could not have been better as the teams removed invasive lionfish from the Sea of Abaco on June 28th. Vying for more than $7,000 in cash prizes, 17 participating teams brought in 908 lionfish to the Green Turtle Club during the sunrise until 4:30 pm event. Numbers of lionfish caught and the sizes of fish landed were both down from last year. Team White Roach took 1st place for most lionfish with an impressive 329 lionfish. Team Lil' Big Fish finished 2nd with a total of 178 lionfish and The Bolo Boys 3rd place with 142 fish. Awards were also given in first through third places for top foreign boat (Starlight, Rum Punch and Team Zissou) as well as first through third for largest and smallest fish caught.  Top female angler in this year's derby was Palm Beach Gardens resident Peggy Rafferty. The derby was made possible by sponsorship through the Bahamas Ministry of Tourism, Green Turtle Club, Brendal's Dive Center and Schooner Bay, as well as the many generous individual donations from Palm Beach County, US and Bahamian businesses and residents. Delicious samples of lionfish fried bites, lionfish ceviche, and an Asian lionfish dish were served to derby participants and spectators. Derby entrants were also treated to the bonus of free Goombay Smash and ice cold Kaliks donated by Brendal's Dive Center and Tipsy Turtles donated by the Green Turtle Club.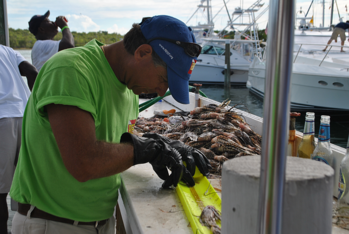 REEF's Lad Akins measures the lionfish that were caught in the derby. Photo Credit: Ellie Splain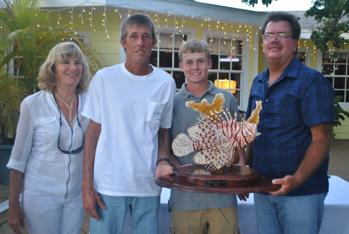 Team White Roach and co-founder of the Green Turtle Cay Derby, Bobbie Lindsay, with the Chris Burdette Trophy for the largest lionfish caught. Photo Credit: Ellie Splain
Lionfish, native to the Indo-Pacific region, are an invasive species in the Bahamas and western Atlantic and are causing significant negative impacts to native marine life throughout the region.  According to Dr. Stephanie Green, Oregon State University researcher, some sites in the Bahamas have seen 65-95% declines in native fish in a two year period.  Impacts to valuable food fish like grouper and snapper could cause damage to the economy and ecology of countries in the invaded range.  Regular removals and removal events are showing promise however, in reducing local lionfish populations and sizes.  The Green Turtle Lionfish Derby is one of the few derbies that also combines research with removals and data on sizes of fish landed during the derby were recorded by teams of researchers and volunteers from the Reef Environmental Education Foundation (REEF). The average size of lionfish caught in this year's derby was significantly smaller than last year's derby (194.3 mm in 2013 and 163.1 in 2014), indicating the success of the derby event in reducing local lionfish populations.  Using scientific models, it is estimated that the 908 lionfish caught in this year's Green Turtle Cay derby would have consumed between 709,000 and 2.2 million prey fish in the following year. A number of fish were also tagged prior to the event and special awards were given to teams that captured tagged fish.  Data from the derby are shared with the Department of Marine Resources (DMR) who grants a single day exemption for the use of compressed air during the derby.  The DMR encourages divers to remove any lionfish they encounter while obeying Bahamian laws and regulations.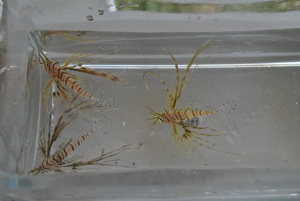 Prizes were given for the smallest live lionfish caught (51 mm in this year's derby). Photo Credit: Ellie Splain
For complete derby results and information on additional Bahamian and international derbies, visit www.REEF.org/lionfish