Educator Workshop Home PageInformation & FAQsRegister today!
Through REEF's Citizen Science Workshop for Educators, participants will engage in hands-on citizen science and field-based professional development. Field activities include snorkeling and kayaking. Educators will learn how to implement lessons to engage their students in science literacy and the scientific process in action.
At the end of the course, educators will be able to:
Confidently access and integrate NGSS aligned REEF lessons into their existing curriculum.
Provide background information to their students about course topics and share field experiences.
Share how scientists and conservationists work in the field, collect data, and use citizen science. 
Below is a preview of the workshop schedule:
Day 1, June 23: Participants will meet at the REEF Campus in Key Largo, FL. We will provide an introduction to REEF's marine conservation programs and an overview of how to incorporate citizen science in the classroom.
Day 2, June 24: The first day will start at John Pennekamp Coral Reef State Park for a tropical ecology tour led on kayaks through winding mangrove trails. The afternoon will be spent at the REEF Campus learning about the world's largest marine life citizen science program – the Volunteer Fish Survey Project. Educators will learn how to identify fish species, adaptations, and behaviors of various fish families, and how to engage their students in citizen science. We will end the day with a STEM showcase on the Grouper Moon Project, including background information on the program with lesson demonstrations on endangered species, sustainable fisheries, and technologies being used to preserve the endangered Nassau Grouper.
Lunch and dinner will be provided. 
Day 3, June 25: The morning will begin with another field experience. Participants will put their newly learned fish identification knowledge to the test by completing fish abundance surveys while snorkeling at the coral reef.  After snorkeling, we will return to REEF Campus to discuss REEF's Invasive Species Program. Participants will learn background information on invasive lionfish, with lesson demonstrations on coral reef predators, combatting invasive species, and lionfish dissections to assist in understanding the internal systems of this invasive species. We will close the day by reviewing and discussing lessons from REEF's main marine conservation programs. We will focus on how to implement related activities in the field and in your classroom. 
Lunch and dinner will be provided. 
Day 4, June 26: The group will meet in the morning at the REEF Campus for breakfast and a demonstration of using art for science communication by creating lionfish jewelry. Each participant will then share their reflections and evaluations through closing activities. 
Breakfast provided.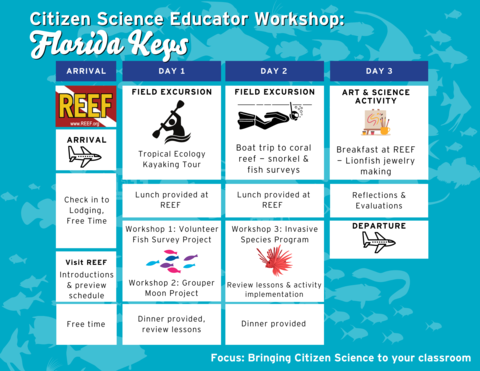 Click here to download a preview of the 2022 educator workshop: