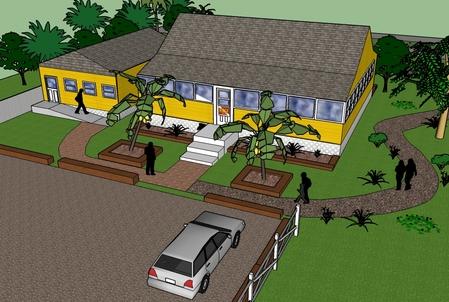 We need your support! Please donate today! All donations made to REEF this summer will be matched dollar for dollar, and will help ensure that we can support a legacy of mission-oriented, ocean conservation work. We have several special sponsorship opportunities during this campaign, including inscribed bricks.  
****
In the Summer of 2017, REEF is undertaking a transformation of our Headquarters Campus in Key Largo, Florida. A new Interpretive Center will be built to accomodate our growing education and outreach programs. The facility will be built adjascent to our existing REEF Headquarters building. An informative Native Plants Trail will also be installed, and improvements to our existing HQ building will be done.
We aim to raise $300,000 to complete the project. Thanks to a grant from the Monroe County Tourist Development Council of $150,000, every donation made will be matched. REEF members can support this effort by sponsoring a brick, providing long-lasting and visible support of the REEF Campus.
Bricks for the "Pathway to Ocean Conservation" -- Two sizes of brick area available (4" x 8" and 8" x 8"), and each can be custom inscribed. The pathway will lead visitors to the front of the buildings. Sponsorship donations of $500 and $1,000.
Other Sponsorship Opportunities
There are a limited number of other sponsored landscape features along the new Native Plants Trail, including interpretive signs, benches, and picnic tables. Please contact us directly at giving@REEF.org or 305-852-0030 if you are interested in these opportunities.
Picnic Tables and Benches -- We will create a peaceful rest area along the Native Plants Trail adjacent to the bike trail. Four picnic tables and three benches with engraved sponsor plaques will be placed in the area. Sponsorship donation of $2,500.
Interpretive Signs -- Along the Native Plants Trail, we will have three interpretive signs educating visitors about the local flora and history of the property. Sponsors will be acknowledged on the sign. Sponsorship donation of $4,000.
Drinking Fountain -- To support the tens of thousands of heritage bike trail users, we will install a drinking fountain in the rest area, with an engraved sponsor plaque. Sponsorship donation of $6,000 (SPONSORED)
Interpretive Center Classroom and Building -- The Interpretive Center will serve as a multi-functional space, with interpretive displays and a classroom facility with state-of-the-art presentation technology. Contact us to discuss these guardian-level sponsorship levels.
REEF is a 501(c)(3) non-profit organization and all donations are tax-deductible.
---
The new REEF Interpretive Center will educate the public about the importance of marine ecosystems through self-guided exhibits, and provide meaningful programs to inspire ocean conservation. This one-of-a-kind facility will be built on the REEF Campus, and will increase REEF's capacity to engage visitors through first hand discovery and informative displays.
Updates to the historic REEF Headquarters building will include educational displays, interactive exhibits, and a renovated design.
The Native Plants Trail will connect the REEF Campus to the Florida Keys Overseas Heritage Trail, used by 1.5 million guests and bicyclists annually. This educational oasis will host interpretive signs describing the native fauna found on the trail, as well as picnic tables, and a drinking fountain.