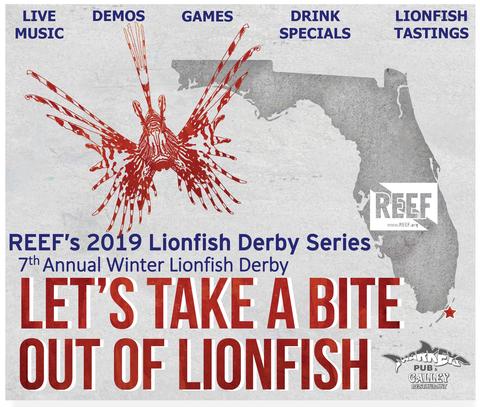 Join us March 29-30th for REEF's 7th Annual Winter Lionfish Derby
hosted by Sharkey's Pub and Galley
Winter Derby Schedule 
Late Registration:
Friday, March 29th from 5:30-6:30pm  REEF HQ 98300 Overseas Hwy, Key Largo, FL 33037  
Team RegistrationOnline WaiversWinter Derby Rules
Captain's Meeting:
Friday, March 29th from 6:30-7:30pm REEF HQ 98300 Overseas Hwy, Key Largo, FL 33037                                                              
***Captain's Meeting is mandatory for the team captains, and all team members are encouraged to attend. The team captain must be one of the four participants in the derby, but does not need to be the captain of the boat. Safe collecting and handling techniques and derby rules and permits will be reviewed. IMPORTANT: This year we are allowing for remote attendance of the Captain's Meeting via Go To Meeting (details will be emailed out). Remote attendance of the captains meeting IS NOT allowed for teams that will be fishing in the areas that fall under the FKNMS, FWC, and Pennekamp derby permits. To get approval to attend the captains meeting remotely a member of the team must call REEF Headquarters and speak with Alli Candelmo 305 856 0030***  
Derby Day: 
Saturday, March 30th at Sharkey's Pub and Galley Restaurant
Sunrise:
Teams may begin collecting lionfish                                                               
6:00 pm:
All lionfish must be turned into the scoring station (dock at Sharkey's Pub & Galley)
5:00-7:00 pm:
Scoring and public lionfish tastings Awards will immediately follow scoring (7PM)      
As this is traditionally the "local" derby lionfish may be taken only in Monroe County waters (except FKNMS no-take zones, research areas & SPA's). During this single day event, permits from the FL FWC, FKNMS and Pennekamp State Park will allow the use of pole spears with paralyzer tips to collect lionfish in the existing no-spearfishing zones on the Atlantic side of the Upper and Middle Keys from Broad Creek south to the north end of Long Key Bridge and offshore to Tennessee Reef as well as the Looe Key FKNMS Existing Management Area.
Exciting news! Rainbow Reef Dive Center is generously offering two FREE lionfish dive charters in the morning and afternoon for divers that want to participate in the REEF Winter Derby March 30th. This is a wonderful opportunity for individuals and teams who want to participate in the derby, but don't have a boat.
There is a morning charter that will be leaving at 8 AM, and an afternoon charter that departs at 1 PM. Space is limited so register soon! In order to sign up for the dive, call Rainbow Reef (305-451-7171). You must be registered on a team for the derby to join the dive. You can use our derby Facebook event to message others about setting up a team.
https://www.facebook.com/events/817250775284590/
Lionfish scoring, fillet and dissection demonstrations, games, raffle prizes and other activities will start at 4:00PM. Sharkey's will be offering lionfish tastings and drink specials open to public.
Registration cost: $120.00 per team (minimum 2 people per team, maximum 4 people)