5K Homepage5K FAQsRegister now!
When you register for the Fish Out of Water Virtual 5K, you choose to join one of five Fish Teams. 
This year's Fish Teams were selected as some of the most iconic species found throughout REEF's Volunteer Fish Survey Project regions world-wide. Whether you are drawn to the fish because it's a favorite on your life list, you just like the way it looks, it's found in the region where you live or dive, or you connect with the personalities we envisioned for each, we look forward to seeing which Fish Team you join.
Click on the fish icons below to read more about each fish's race "personality" and a few fun facts.
 

Bandit Angelfish 
Makes friends with strangers at the starting line
Brings homemade protein balls for everyone 
Accessorizes their race outfit (capes, masks, you name it!)
Bandit Angelfish are endemic to the Hawaiian Islands, meaning that is the only place in the world you can find them. They are often seen swimming out in the open and in pairs, and sponges are one of their favorite snacks. 

China Rockfish
Always creates a training plan 
Prefers to run alone
Wears all black even when it's 90 degrees 
China Rockfish are a solitary species found on rocky reefs from Alaska to California. They like exposed coastlines and will often stay at the same homesite for many years. The oldest China Rockfish ever documented was 79 years old!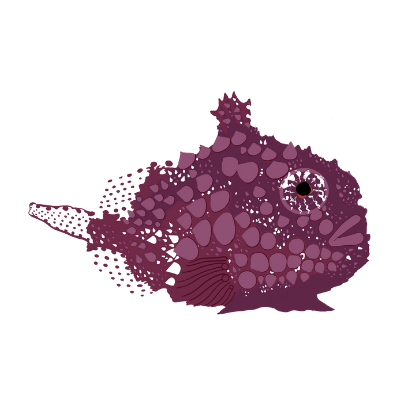 Spiny Lumpsucker
Firm believer in slow and steady wins the race
Resilient and determined to overcome anything 
Has a different colored outfit for every race 
Spiny Lumpsuckers prefer cold water. There are species in the Pacific Northwest (Alaska - Washington), the northeast US and Canada, and in the northeastern Atlantic. Their small, globular body is covered in cone-shaped lumps and they use their pelvic fins to attach to rocks and kelp. Lumpsuckers come in a wide variety of colors. 

Golden Hamlet
In it to win it 
Runs a 2-mile "warm-up" before the race 
Race outfit always matches the medal 
Golden Hamlet is one of the rarer of the dozen or so hamlet species, a family only found in the Tropical Western Atlantic (TWA). Like all hamlets, they are simultaneous hermaphrodites and meet up with the same mate at the same spot each evening just before sunset. 

Mandarinfish
Dances at the starting line waiting for the race to start
Loves to run with friends
Neon colored gear or bust 
Mandarinfish is a colorful species of dragonet and a favorite find for photographers and fish-watchers. During the day they are secretive, but come out of their hiding holes around dusk, bouncing up and down in an elaborate mating ritual. They are found throughout the Asia Pacific in REEF's Central Indo-Pacific (CIP) region. 
---
The REEF Volunteer Fish Survey Project was developed to allow volunteer SCUBA divers and snorkelers to collect and report information on marine fish populations as well as selected invertebrate and algae species in temperate reef areas. The data are collected using a fun and easy standardized method and are housed in a publicly-accessible database on REEF's website. These data are used by a variety of resource agencies and researchers. If you'd like to learn more about the REEF Volunteer Fish Survey Project or become a REEF volunteer fish surveyor, visit our webpage.