Home to eight of the most species-rich sites in REEF's Caribbean database, the reefs of Bonaire are legendary among underwater naturalists. Participants will enjoy a fun-filled week of up to 12 boat dives on a spacious dive boat, as well as unlimited shore diving throughout Bonaire's marine park. Experience Bonaire's world-renowned dive sites such as Red Slave, Bari Reef, Salt Pier and Something Special, while expanding your knowledge of Caribbean fish species alongside other marine life enthusiasts. REEF staff members and Tropical Western Atlantic fish experts Amy and Janna will team up to help REEF surveyors, both beginner and advanced, finesse their fish identification skills with educational presentations each evening. In addition, Bonaire is an excellent destination for families and non-diving companions, with many shallow snorkeling reefs teeming with fish and invertebrate life, as well as attractions such as flamingoes and Pink Beach.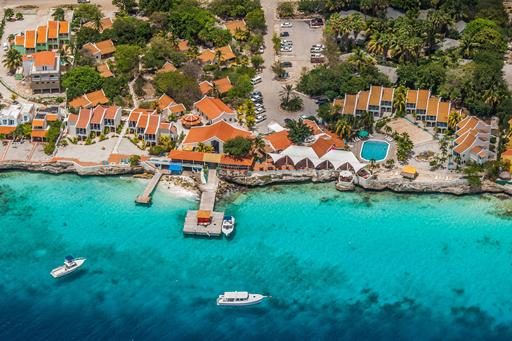 Captain Don's Habitat in Bonaire.
Cost per Person: $1,137 for double occupancy in a deluxe ocean view room, $1,235 for double occupancy in a deluxe junior suite, $1,186 for double occupancy in a 1 bedroom bungalow. Other accommodations including 2 bedroom and 3 bedroom bungalows also available. Single occupancy also available: $2,039 for single occupancy is a deluxe junior suite. Non-diver rates available as well. Please contact REEF Trips for details.

All deluxe ocean view rooms and deluxe junior suites are filled at this time. Due to a recent cancellation, there are now two diver spaces available in a 1 bedroom bungalow. No 2 or 3 bedroom bungalows are available.

Deluxe ocean view rooms have two queen beds, refrigerator, coffee maker, full bath with tub, and secluded balcony or patio. Deluxe junior suites are located on the waterfront and have one king bed, granite top wet bar with sink, microwave, coffee maker and refrigerator. 1 bedroom cottages have a garden view, spacious dining and living room, full kitchen, 1 large bedroom, 1 bathroom, and covered patio with furniture.

What is included: Your package includes 7 nights in an air-conditioned accommodation, 7 days rental vehicle (one car per room), up to 12 boat dives (scheduled with the group) with nitrox, unlimited shore diving and air fills, round trip airport transfers, daily breakfast buffet, service charges and taxes, tanks, weights, and weight belts.

Additional fees: A REEF Program Fee of $300 per diver will be added to each package to cover the cost of the group leaders, seminar and survey materials. Meals other than breakfast are not included. Bonaire Marine Park Fee of $25/person to be paid in cash only will be paid onsite. Nitrox included for boat dives only; optional unlimited nitrox for the week can be added onsite for $30/person.

About the trip leaders: This trip will be co-led by Amy Lee and Janna Nichols. As REEF's Trips Program Manager, Amy merges her passions for diving, communication, science, and travel, while enabling individuals to immerse themselves in REEF's numerous conservation projects. A lifelong ocean lover and travel enthusiast, Amy has experience diving and conducting surveys throughout the Caribbean, Atlantic, and Indo-Pacific. She is an expert level TWA surveyor and member of REEF's Advanced Assessment Team for the Tropical Western Atlantic region. Amy is based at REEF Headquarters in Key Largo, Florida, where she dives and surveys in her spare time.

Janna is REEF's Citizen Science Program Manager, working extensively with the Volunteer Fish Survey Project. She coordinates REEF's social media and was also the creator of the popular REEF Fishinar (webinar) program. Janna is passionate about underwater photography and marine life identification, and many of her photos appear in west coast marine life ID guides, publications, and online resources. She has completed over 1,000 REEF surveys and is an expert level REEF surveyor in the Pacific Coast and Tropical Western Atlantic regions. 

For more information about Amy and Janna, visit the Trip Leaders Bio page.

How to book: To reserve your space or find out more, e-mail us at trips@REEF.org, or call us at 305-588-5869. A $500 deposit will be collected at the time of booking. Visit our Trip Policies page for more information on deposit and payment schedules.

Airport/hotel transfer information: Participants will fly into/out of Kralendijk, Bonaire (BON) Flamingo International Airport, and then transported the short distance (15 min) to the resort. A rental vehicle (one per room) will be provided upon check-in.

Relax in a deluxe room at Captain Don's.

 Spectacular shore diving at over 100 sites along the island.

A diver floats along a beautiful reef in Bonaire. Photo by HelmutCorneli/Alamy.

View amazing sunsets from the deck of Rum Runners Restaurant.