Join renowned underwater photographers and REEF Board of Trustees members Ned and Anna DeLoach for an unforgettable Field Survey Trip to one of the best yet least known dive destinations in the world, nestled in the unique, volcanic landscape of North Sulawesi, Indonesia. The 11-day adventure will begin in Lembeh Strait at Eco Divers Lembeh, a macro marine creature-lover's paradise. On each dive day, your fully-equipped day-liveaboard will moor over shallow, black sandy slopes where a vast array of weird and wonderful fish and critters live.
Ned and Anna's expert guidance will allow participants to experience a whole new side of muck diving. Participants will then transfer to Eco Divers Manado, for 5 days of diving Bunaken National Park. The waters of the park are home to shoals of red tooth triggerfish, bannerfish and pyramid butterflyfish, as well as reef sharks, turtles, Napoleon wrasse and eagle rays. The resort is situated in an unspoiled and serene location, far from crowds, allowing for a peaceful experience both topside and underwater. REEF's Indonesia Field Survey offers the chance to examine the unusual, and often undiscovered, marine life found in this unique region of the Central Indo-Pacific.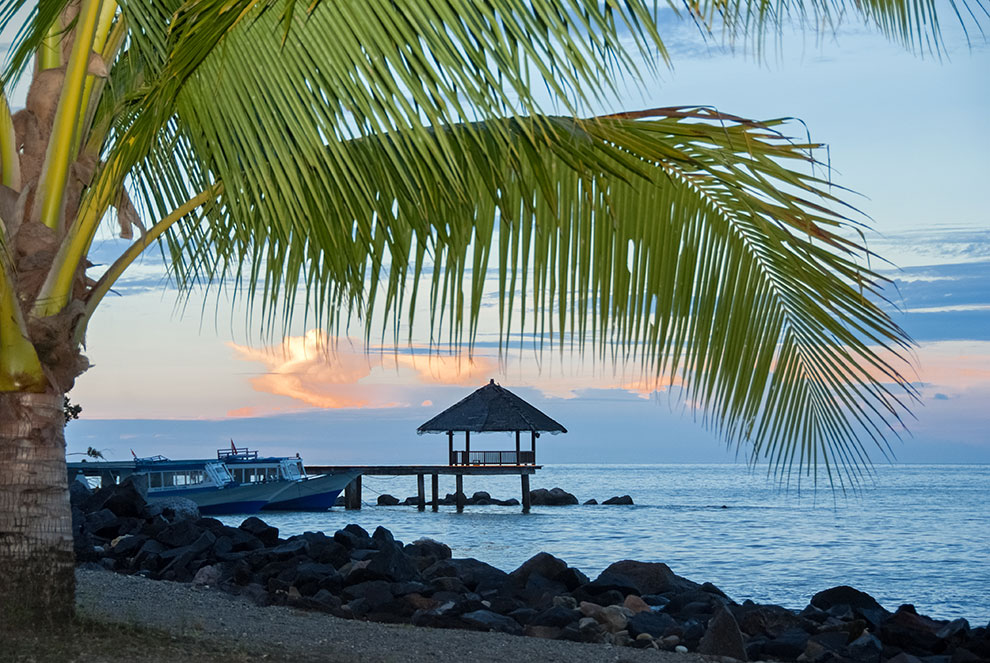 A gorgeous view in Manado. Photo credit: Eco Divers.
Cost per person: $2,355 based on double occupancy

What is included:Your package includes 11 nights in an air-conditioned accommodation (6 nights in Lembeh, 5 nights in Manado), 10 days of boat diving (up to three dives per day), all meals, snacks, coffee, tea, and mineral water, round trip airport transfers and transfers between Lembeh and Manado, Internet access, taxes, tanks, and weights.

Additional fees: A REEF Program Fee of $350 per diver will be added to each package to cover the cost of the group leaders, seminar, and survey materials. Paid on premises: Bunaken National Park fee $11/person. Optional nitrox available for $7/tank.

About the trip leaders: Ned DeLoach, co-founder of REEF and co-author of more than nine marine identification books, and his wife Anna are known for their devotion to studying and photographing fish behavior. Anna is an award winning videographer and she and Ned regularly write for Scuba Diver Magazine, among other reputable publications.

How to book: To reserve your space or find out more, e-mail us at trips@REEF.org, or call us at 305-588-5869. A $1,000 deposit will be collected at the time of booking. Visit our Trip Policies page for more information on deposit and payment schedules.

Airport/hotel transfer information: Participants should fly into Sam Ratulangi International Airport (MDC) in Manado. For flight booking suggestions, visit the Eco Divers FAQ page. From the airport in Manado, participants will be transported to Eco Divers Lembeh. Transfer between resorts is included in your package price.

Lembeh Strait from above. Photo credit: Eco Divers.

  Diving in Lembeh offers the chance to get up close with many unique creatures, including the crocodile fish. Photo credit: Ned DeLoach.

A rare comet fish sighting in Lembeh. Photo credit: Ned DeLoach.