Hornby Island is known for its good visibility, gentle currents and colorful marine life including Giant Pacific Octopus, Wolf eels, various rockfish species, colorful anemones and nudibranchs. Natural sculpted sandstone reefs make for interesting above and underwater terrain. Evening fish and invertebrate ID seminars and games led by REEF Citizen Science Program Manager and Pacific Coast fish expert Janna Nichols will help both new and experienced surveyors enhance their identification skills.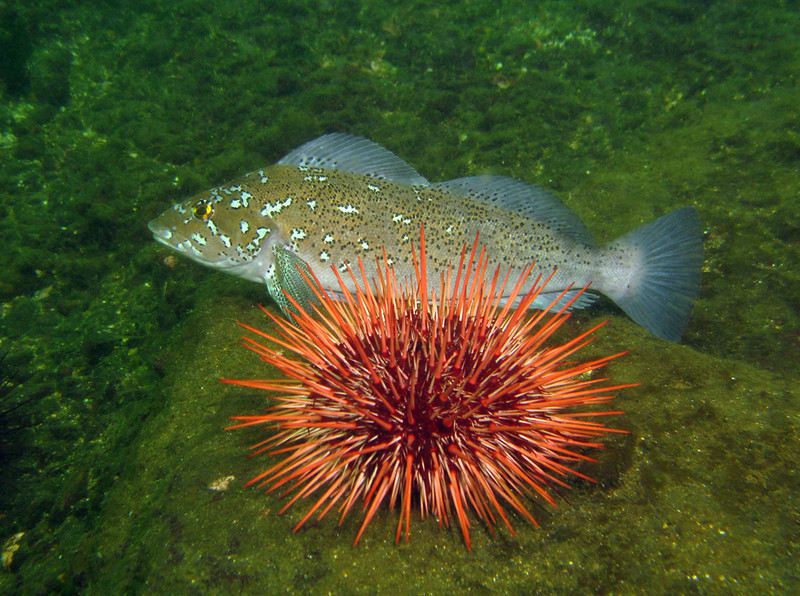 A male kelp greenling poses with a red urchin. Photo credit: Janna Nichols.
Cost per Person: $777 per diver. Non-diver rates also available: $416 for non-divers.

(Trip was previously advertised as $927 CAD. Rates are updated to reflect exchange rate to USD.) 

What is included: Your package includes 4 nights of accommodation, 6 boat dives, unlimited shore diving, all meals during your stay (dinner Sunday night to breakfast on Thursday), sales tax, tanks, and weights.

Additional fees: A REEF Program Fee of $150 per diver will be added to each package to cover the cost of the group leaders, seminar and survey materials. Optional nitrox available for $15/tank.

About the trip leader: Janna is REEF's Citizen Science Program Manager, working extensively with the Volunteer Fish Survey Project. She coordinates REEF's social media and was also the creator of the popular REEF Fishinar (webinar) program. Although Janna officially joined REEF staff in 2010, she has been conducting surveys, teaching Fish ID classes and giving REEF presentations as a volunteer since 2000, and is based in Vancouver, Washington. Janna is passionate about underwater photography and marine life identification, and many of her photos appear in west coast marine life ID guides, publications, and online resources. Her efforts were integral to the design and photography on REEF's many laminated fish identification cards. She has personally completed over 1,000 REEF surveys and is an expert level REEF surveyor in the Pacific Coast and Tropical Western Atlantic regions. Janna is a PADI certified SCUBA instructor (retired), a past AAUS Scientific Diver and DSO, and the leader of REEF's Pacific Coast Advanced Assessment Team. In 2003, she received REEF's Volunteer of the Year award, in 2013 she received Dive News Network's Diver of the Year Award, and in 2015 she received the Golden Hamlet award from REEF.

How to book: To reserve your space or find out more, e-mail us at trips@REEF.org, or call us at 305-588-5869. A $500 deposit will be collected at the time of booking. Visit our Trip Policies page for more information on deposit and payment schedules.

Airport/hotel transfer information: Hornby Island is located east of Vancouver Island in British Columbia, Canada. It is recommended to drive to Hornby Island, especially if traveling with dive gear. More information on transportation can be found on Hornby Island Diving's travel page.

Beautiful scenery in Hornby Island. Photo credit: Hornby Island Diving.

 Observe plenty of invertebrate life, such as sunstars and urchins. Photo credit: Janna Nichols.

Enjoy this view as you head out to dive each morning. Photo credit: Hornby Island Diving.