This special Lionfish Research Trip is part of REEF's ongoing effort to monitor the establishment and consequences of invasive lionfish on native fish populations and reef ecosystems. The trip includes a unique research itinerary aboard the Turks and Caicos Explorer II to visit remote areas of the Bahamas including Mayaguana, Plana Cays, Crooked Island, Salina Point, and Castle Island. Trip participants will also have the chance to be trained in lionfish collection, handling and dissection of specimens to document prey.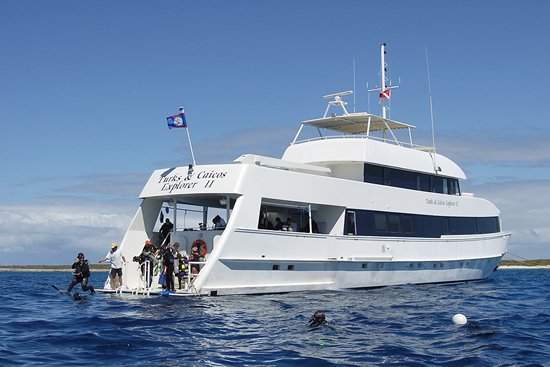 Enjoy a unique lionfish research itinerary in the Bahamas, aboard the Explorer II liveaboard.
Cost per Person: VIP Stateroom - $2,795, Main Deck Stateroom - $2,595, Lower Deck Stateroom - $2,395. All pricing based on double occupancy.

What is included:Your package includes 7 nights onboard the Explorer II liveaboard, three daily meals and snacks (except dinner Friday night), all alcoholic and non-alcoholic beverages, 6 days of diving with a special research itinerary scheduled for Mayaguana, Plana Cays, Crooked Island, Salina Point and Castle Island (up to 5 dives per day including night dives and 2 dives on the last day), tanks, weight and weight belts.

Additional fees: A REEF Program Fee of $300 per diver will be added to each package to cover the cost of the group leaders, seminar and survey materials. Paid on premises: Port tax and fuel surcharge amount to be determined.* Airport Transfers to boat $45/person each way for up to 2 people, $25/person thereafter.

*Taxes and fees subject to change and will be determined prior to travel. Friday night dinner ashore in Provo on participant's own (transportation provided & included) and crew gratuity at participant's own discretion. Airline Departure Tax typically included in price of airline ticket. Optional Nitrox available on board for $150/person for the duration of the trip.

About the trip leaders: Lad Akins, REEF's Director of Special Projects, is renowned as the leading expert on invasive species, specifically lionfish. He served as the Founding Executive Director of REEF and led the organization in that capacity for 16 years, helping to design and develop REEF's widely recognized marine conservation programs. In 2005, he stepped down to focus his efforts solely on the lionfish invasion.

Peter A. Hughes is the Founder of the DivEncounters Alliance, a group of independent live-aboard dive operators, and a member of REEF's Board of Directors. Peter is one of the diving world's foremost live-aboard operators, having spent more than forty years in the diving industry. Peter received the DEMA Reaching Out Award for helping to evolve the liveaboard diving industry and subsequently joined the DEMA Hall of Fame in 2011.

How to book: To reserve your space or find out more, e-mail us at trips@REEF.org, or call us at 305-588-5869. A $500 deposit will be collected at the time of booking. Visit our Trip Policies page for more information on deposit and payment schedules.

Airport/hotel transfer information: While the trip itinerary is based in the Bahamas, the port for the Explorer II is located in Turks & Caicos. Participants fly into/out of Providenciales International Airport (PLS) on Turks & Caicos. Ground transfers from the airport to the boat will be arranged in advance. Ground transfer cost will be paid directly to the driver on-site. The vessel is available for boarding after 3pm on Saturday. Participants will disembark the following Saturday at 9am.

More about REEF Lionfish Study Trips: Want to know more about these special trips and to see highlights of findings from previous trips? Visit this page.

Participate in invasive lionfish research and removals while diving.

The boat has a spacious and convenient dive deck setup. Photo credit: Explorer Ventures

Collect important lionfish data and study the impacts of the invasion.

Explore remote areas of the Bahamas.