Join Christy and Brice for an unforgettable week of diving and citizen science in the diverse and dynamic Sea of Cortez, home to a wide range of creatures including nudibranchs, blennies, jawfish, rays, guitarfish, sharks, eels, octopuses, seahorses and much more! In addition to numerous fish and invertebrate families, participants may also get to observe pilot and sperm whales while in transit and we'll look for Whale Sharks on the last day. The plankton-rich currents of the Pacific along the coast of California and Mexico, along with the sheltered waters of the Sea of Cortez, also create a great opportunity to encounter whale sharks and manta rays. In fact, Jacques Cousteau once called this region, "the aquarium of the world." Participants will spend 7 nights aboard the magnificent Rocio Del Mar liveaboard, a spacious 110-foot vessel complete with a fantastic crew.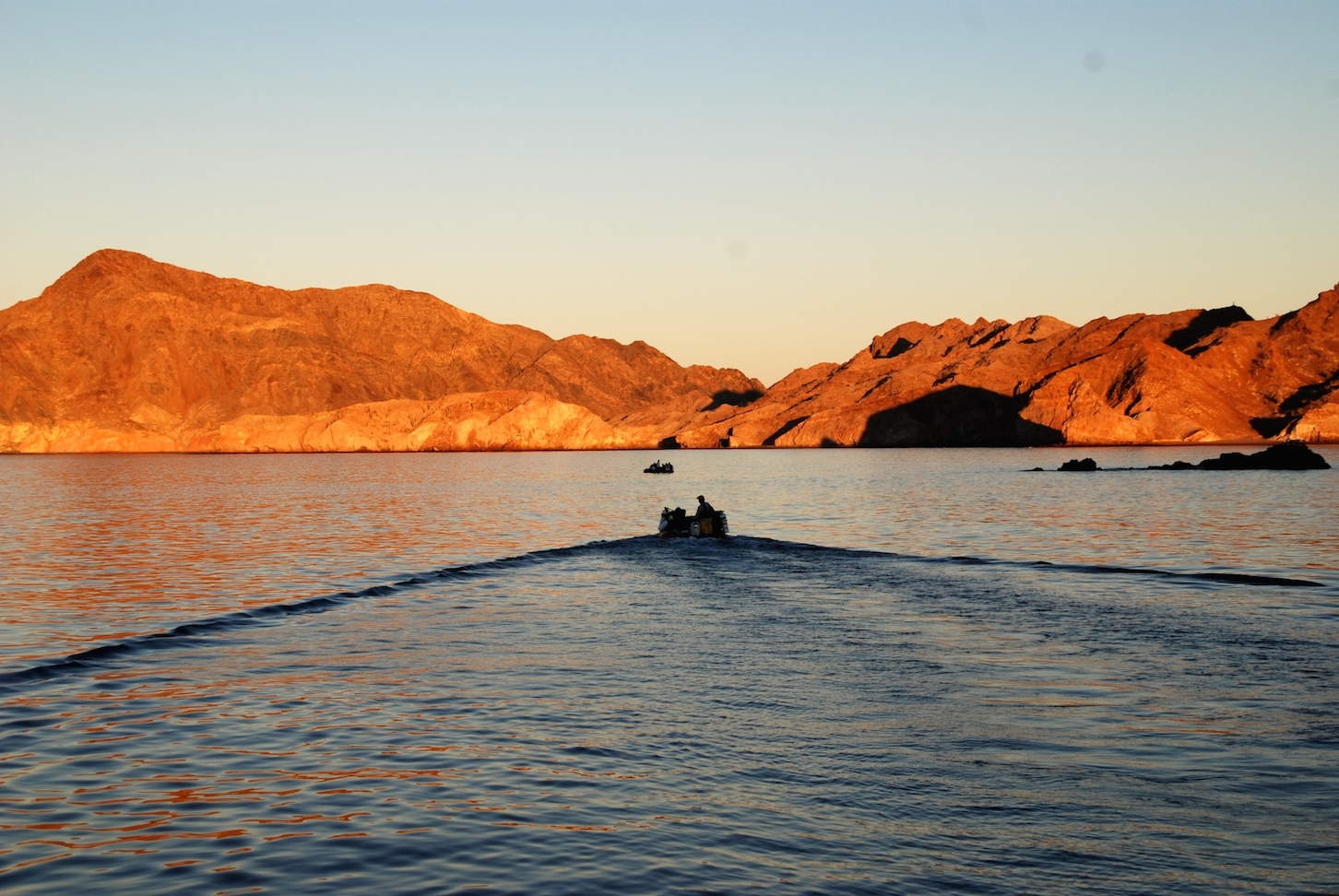 Divers are treated to amazing topside scenery in the Sea of Cortez.
Cost per person: $2,495 per diver for double occupancy in an air-conditioned stateroom with private bathroom and shower.

What is included: Your package includes 7 nights onboard the Rocio Del Mar liveaboard, 3-4 dives a day, all meals onboard including continental breakfast on the last morning of the trip, non-alcoholic beverages, tanks, weights, and weight belts.

Additional fees: A REEF Program Fee of $300 per diver will be added to each package to cover the cost of the group leaders, seminar and survey materials. Paid on premises: $125 per person round-trip shuttle transportation from Phoenix, AZ, to Marina Fonatur in Mexico, payable directly to shuttle service. National park fees $28 per person and hyperbaric chamber fee $15 per person paid onboard. Optional nitrox for the week available for $120 per person, gratuity at participant's discretion. Fuel surcharge to be determined at time of trip departure. Per Rocio Del Mar's policy, dive insurance is required for this trip, in addition to one dive computer, safety sausage and whistle per diver.

About the trip leaders: Dr. Christy Pattengill-Semmens is REEF's Director of Science, and her husband Dr. Brice Semmens, is a professor of coral reef ecology and fisheries at Scripps Institution of Oceanography. Christy and Brice have been part of the REEF program since its beginnings in 1993 when they were interns for the Nature Conservancy. They have led dozens of REEF Field Surveys over the years to all of REEF's survey project regions.

How to book: To reserve your space or find out more, e-mail us at trips@REEF.org, or call us at 305-588-5869. A $500 deposit will be collected at the time of booking. Visit our Trip Policies page for more information on deposit and payment schedules.

Airport/hotel transfer information: Participants will fly into/out of Phoenix Sky Harbor International Airport (PHX) in Phoenix, Arizona, and then arrange for a shuttle service to the boat through Head Out to Rocky Point. The Rocio Del Mar is located at Marina Fonatur in Puerto Penasco (Rocky Point), Mexico, approximately a 4 hour drive from Phoenix. The shuttle will pick up all passengers at PHX between noon and 1 pm on August 19. Participants should arrange to arrive in Phoenix no later than 11 am that day and depart from Phoenix no earlier than 3 pm on Aug. 26.

The beautiful Rocio del Mar. Photo by Lili Sandoval.

A school of King Angelfish. Photo by Paul Humann.

Launching the dive pangas in the morning.

We'll spend our last day looking for Whale Sharks. Photo by Christy Semmens.