From walls adorned with spectacular corals, wrecks that are home to a diverse array of marine life, or shallow reefs teeming with tropical fish species, the dive sites of Grand Cayman will delight REEF surveyors, who will enjoy fish id seminars each day. Weather permitting, trips to Stingray City and the USS Kittiwake will be scheduled for the group, and participants may also take advantage of the unlimited shore diving directly in front of Sunset House. While Grand Cayman has more than 365 fantastic dive sites, this destination also has plenty of activities to enjoy during surface intervals or to entertain your non-diving companions, including Stingray City, Pedro St. James National Historic Site, Queen Elizabeth II Botanic Park, and the Black Pearl Skate and Surf Park, as well as visiting the stunning 7 Mile Beach, a short taxi ride from Sunset House.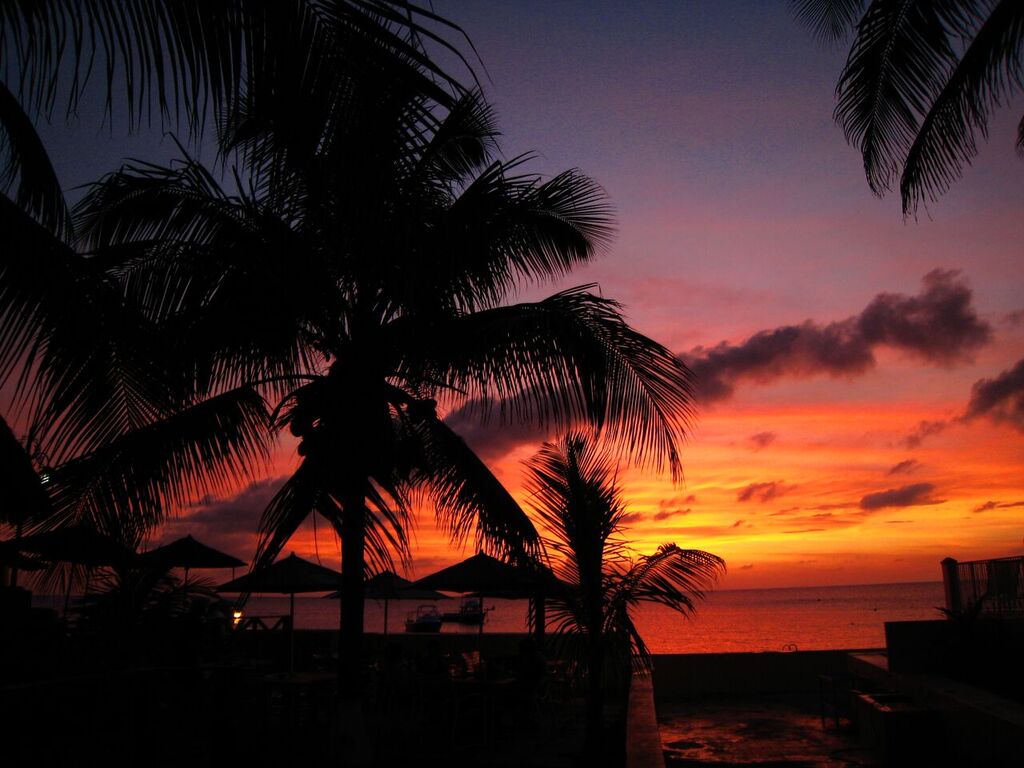 Enjoy this view and see just how Sunset House gets its name.
Cost per Person: $1,192 for double occupancy in a courtyard room. Single occupancy rates also available: $1,584 for single occupancy in a courtyard room. $1,298 for double occupancy in an ocean view room. Non-diver rates also available, please contact REEF Trips for details.

What is included: Your package includes 7 nights in a courtyard room, 5 days of 2-tank morning boat dives, unlimited shore diving, daily made-to-order breakfast, round trip airport transfers, welcome cocktail, government tax and service charges, Sunset House souvenir water bottle, tanks, and weights.

Additional fees: A REEF Program Fee of $300 per diver will be added to each package to cover the cost of the group leaders, seminar and survey materials. Optional nitrox available for $18/tank, or unlimited nitrox for $125/person for the week.

About the trip leader: Ellie serves as REEF's Education Program Manager and is a passionate teacher of the marine environment. Ellie primarily focuses on education programs and efforts at REEF's headquarters in Key Largo, Florida and outreach events including the annual REEF Fest. Under Ellie's leadership, REEF's education programs have grown to include the Ocean Explorers Camp, week long marine science programs for elementary and middle school students. Since her initial internship with REEF in 2013, Ellie has been captivated by the Volunteer Fish Survey Project, becoming an expert level surveyor and joining the Advanced Assessment Team for the Tropical Western Atlantic. Ellie is a divemaster and an experienced surveyor throughout the Caribbean. 

How to book: To reserve your space or find out more, e-mail us at trips@REEF.org, or call us at 305-588-5869. A $500 deposit will be collected at the time of booking. Visit our Trip Policies page for more information on deposit and payment schedules.

Airport/hotel transfer information: Participants should fly into Owen Roberts International Aiport (GCM) in Grand Cayman, Cayman Islands. From there, participants will be transported to Sunset House via concierge service.

The dive dock at Sunset House.

Stingray City is one of many fun activities on the island.

Comfortable and spacious rooms at Sunset House.