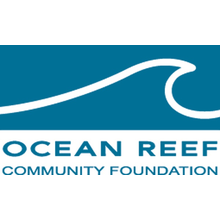 REEF was recently awarded a $3,900 grant from Ocean Reef Community Foundation (ORCF) to fund Nature Days, an educational program for abused, abandoned, and neglected children. Organized in partnership with the Florida Keys Children's Shelter (FKCS) and Miami Bridge Youth and Family Services, Nature Days will give children ages 11-17 from Key Largo, Homestead, and Florida City the opportunity to engage in outdoor activities like kayaking and snorkeling, while learning about nature and ocean life.
Six Nature Days programs, open to 15 students each, will be offered during the 2019-2020 school year. Nature Days will provide a supervised, structured program while encouraging positive self-esteem, self-reliance, problem solving, and positive social behaviors. The children will participate in kayaking, snorkeling, and a glass bottom boat ride at John Pennekamp Coral Reef State Park, touch tank lessons and dolphin viewings at Island Dolphin Care, visits to Everglades National Park and the Everglades Outpost, and hands-on projects like lionfish jewelry-making at REEF Headquarters.
Nature Days participants may include children living at the FKCS Tavernier residential facility, as well as the dozens of non-residential children and teens in Key Largo and Islamorada being served by the organization's community-based counselors. Participants may also include children living at the Miami-Dade emergency shelters in Homestead and Miami Central.
ORCF generously funded the inaugural Nature Days program, held in the summer of 2018. Twenty-two children from FKCS and Miami Bridge attended the program. Some children were so impacted by their Nature Days experience that they were inspired to pursue a career in an ocean-oriented field. According to FKCS CEO Ben Kemmer, "the majority of the children we serve don't get the opportunity to swim, snorkel, and learn about the beautiful place they live. It made a huge difference to have REEF educators as their tour guides, curating a packed and exciting daily schedule of activities and sharing in-depth knowledge of marine life."
We are excited to partner with FKCS and Miami Bridge to offer the second year of Nature Days, and wish to extend our gratitude to ORCF for their continued financial support. Thanks to ORCF, Nature Days will change the lives of up to 90 children in Monroe and Miami-Dade Counties who have experienced abuse, homelessness, and other traumatic situations.