Caroly's Notes: Ocean Connections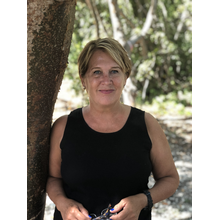 Welcome to our May 2019 e-News! This month, I am proud to highlight several of REEF's wonderful education programs. Did you know that we offer
free webinars (we call them Fishinars) about marine life identification
? These Fishinars are an easy, interactive way to learn about the ocean. Earlier this month, hundreds of people (including me) tuned into a four-part Fishinar series about Tropical Western Atlantic fishes. Janna, Ellie, and Amy presented memorable, funny ways and mnemonics to remember the fish – my favorite ID clue for the Balloonfish was to think about the iridescent sparkles in its eyes, like a mylar balloon! This series and all of our past 170 Fishinars are available on our website.
Fishinars are just one of our many educational activities, as education is an integral part of everything we do. We are delighted that for the second year in a row,
Ocean Reef Community Foundation has generously funded Nature Days
, a program to engage disadvantaged children from South Florida and the Keys in outdoor activities like kayaking and snorkeling, while learning about nature and ocean life. From young children to those who are young at heart, REEF's educational efforts foster our next generation of marine stewards and build a lifetime of caring for the ocean.