Bidding on items in the REEF Fest Silent Auction begins at the Welcome Sunset Social on Thursday night at the Murray Nelson Government Center. Bidding continues on Friday and Saturday, and the items will be at the Government Center during the day for the seminars and at the socials in the evening. The auction closes Saturday night at the For the Love of the Sea banquet.
Thank You
REEF greatly appreciates the support of the following businesses and individuals for donating to our 2019 REEF Fest Silent Auction and Raffle:
All Keys Aerial and Photography 
Atlantis Philippines Dive Resorts & Liveaboards
Backscatter Underwater Photography & Video
Bass Pro Shops
Blue Ocean Art
Carlos and Allison Estape
CMD Yoga
CoCo View Resort in Roatan
Divers Alert Network
Florida Keys Jewelers
Fred Haase
Gail Klepper
Gili Gear
Ginspired Arts 
Gratitude Café and Watersports 
Jeff Haines
Key Largo Chocolates
Key Largo Conch House

 

Keys Florist
Laura Hartner
Linda Bleser
Linda Ianiello + Susan Mears
Michelle Rogers
Nancy Perez
Ned and Anna DeLoach
New World Publications
Pirates Cove Watersports
Pura Vida Divers
Quiescence Diving Services, Inc.
Seaside Glassworks
Star Properties - Michael J Kanik, PA
Stream2Sea, LLC
Sunset House in Grand Cayman
The Rum Brush
Below are some highlights of the exciting items that will be available for bidding in our silent auction:
---
*****
Dive Packages
---
Philippines Dive Vacation - Value $2,750 
Donated by Atlantis Philippines Dive Resorts & Liveaboards
7 night dive vacation for 1 person at either Atlantis Puerto Galera or Atlantis Dumaguete. Includes deluxe accommodations, all meals at Toko's Restaurant, coffee, tea, and filtered water, unlimited internet access, unlimited scheduled boat diving (typically 5 dives per day including night diving), air fills, tanks, weights, and weight belts.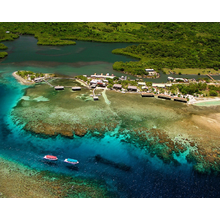 Roatan Dive Vacation - Value $2,000
Donated by CoCoView Resort
7 night stay at CoCo View Resort. Includes air-conditioned ocean-view accommodations, welcome drink, airport transfers, three daily meals, unlimited shore diving plus two boat trips daily; (each boat trip includes 1 moored site and 1 drop off dive tank on one of the walls in CCV's famous Front Yard), resort-wide wifi, use of kayaks and paddle-boards, musical entertainment and educational presentations.
Grand Cayman Dive Vacation - Value $1,300
Donated by Sunset House
3 night stay at Sunset House. Includes ocean view accommodations, 2 days of 2-tank boat dives, unlimited shore diving for 2 people.
Blackwater Diving Package - Value $150
Donated by Pura Vida Divers, Linda Ianiello and Susan Mears, and Ned and Anna DeLoach
Package includes a blackwater dive off West Palm Beach with Pura Vida Divers, a signed original Ned DeLoach print taken during a blackwater dive, and a copy of the new book, "Black Water Creatures" by Linda Ianiello and Susan Mears.
[Photo credit: Klaus Stiefel]
*****
Photography
"BallyHOO!!!!", Original Photography by Allison Estape
Donated by Allison and Carlos Estape
A stunning image of the fast-swimming Ballyhoo, just under the water surface. Printed on canvas 23" x 15", it is ready to hang.
"Barracuda Wall", Original Photography by Jim Hellemn
Donated by Blue Ocean Art
A diver finds themselves swimming along a wall of Blackfin Barracuda. 20" x 42", mounted on foam and ready for framing.
"Hello from the Blue Heron Bridge!", Original Photography by Jeffrey Haines
Donated by Jeffrey Haines
Jeff captured this friendly Seaweed Blenny at the Blue Heron Bridge. Metal Print 12"x18", mounted on an edge mount and ready to hang!
"Sunset Over Blackwater", Original Photography by All Keys Aerial and Photography
Donated by All Keys Aerial and Photography
A beautiful scene taken over Blackwater Sound. Printed on canvas and framed 16"x20".
*****
Artwork
"Fish Quilt"
Donated by Gail Klepper
"Acrylic on Limestone"
Donated by Nancy Perez
"REEF Fest"
Original acrylic painting on wood by Gini Briggs, sealed with resin.  
Donated by Ginspired Arts
*****
And More!
DAN O2 Kit - Value $512
Donated by Divers Alert Network
"Colors of the Reef" book set by Roger Steeene - Value $320
Donated by New World Publications
Touchstone Crystal by Swarovski Two Necklaces, Two Earrings Sets and a Bracelet - Value $250
Donated by Laura Hartner
Gift Certificate to Backscatter - Value $200
Donated by Backscatter Photo and Video
Gili Gear Bag + Beach Mat - Value $170
Donated by Gili
Eco-Sunscreen Dispenser Set - Value $125
Donated by Stream2Sea
Frigate Spinning Combo Fishing Rod - Value $100
Donated by Bass Pro Shops
Gili Gear Bag + Beach Mat - Value $170
Donated by Gili
. . . And Much More!