How does the race work?
When you sign up to run, walk, hike, or bike for the Fish Out of Water Virtual 5K, you'll pay a registration fee of $35. Proceeds of the registration fee will support the "Oceans for All Scholarship Fund" to provide meaningful ocean experiences and education programs. After you register, we'll send the following items: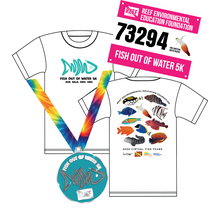 Fish Out of Water 5K shirt
Race bib showing off your fish team
Certificate of completion 
2020 finishers' medal (first 100 participant to register)
An email confirming your registration and more details regarding race specifics
Some useful tools to help get you ready for the REEF Race week! 
Note that if you register after August 17 you will not receive your race registration packet until after race week. Participants who register after September 14 will NOT receive a medal in their race registration packet due to limited supplies. 
The Fish Out of Water Virtual 5K will take place Monday, September 28 through Sunday, October 4. You can choose to walk, run, hike, or bike a 5K in your community in one day or over multiple days during the week. 
When you finish your 5K, help us celebrate with you! Please send us a race day photo, so we recognize your accomplishment and celebrate together virtually. Please share your photo with us at explorers@REEF.org, and if you share it on social media, please tag REEF and use the hashtags #REEFRace and #OceansForAll. 
Once you receive your registration packet, post a photo on Facebook or Instagram of you in your race swag or completing your 5K, tag REEF and two of your race buddies and you'll be automatically entered to win a REEF-themed giveaway! A winner will be chosen after October 4. 
REEF Facebook: @REEF.org 
REEF Instagram: @reef_org 
5K Social Media Toolkit
You can be part of increasing awareness on REEF's marine conservation efforts from the comfort of your home! We've created a fun and easy to use Social Media Toolkit to help you tell others about the race. This toolkit contains resources you can use to share information about REEF's Fish Out of Water Virtual 5K. Use the sample texts and graphics to post on your social media platforms such as Facebook or Instagram. 
Do I need to record my time for completing the 5K? 
It's up to you. If you track your time and distance using a fitness watch or app on your phone, we encourage you to share your success with us after the race. All submissions will go directly to REEF, and the form will allow you to keep your time submission anonymous. 
What is the "Oceans for All Fund"?
The Ocean for All Fund is a pooled scholarship fund supported by businesses, foundations, and individuals committed to investing in a more equitable future for marine conservation. This fund promotes inclusive opportunities for people to connect with, enjoy, and learn about the underwater world. REEF uses the fund in partnership with established organizations that serve underrepresented groups and directly provides both in-person and online programs, ensuring that cultivating connections with the ocean is not limited by zip code. The Oceans for All Fund reduces barriers that limit diverse individuals and groups from participating in Ocean Explorers Programs or other REEF programs. To learn more about the Oceans for All Fund visit our webpage. 
What is the Ocean Explorers Program? 
The REEF Ocean Explorers Program includes all of our education and outreach programs held on REEF's campus, throughout South Florida, and virtually across the world. As part of the Ocean Explorers Program, we offer many ways to become immersed in an ocean of learning. Our learning experiences are designed to appeal to all levels of marine enthusiasts. Schools, scouts, youth groups, universities, dive clubs, and adult travel groups can all learn about marine science with REEF. 
Ocean Explorers Programs include educational workshops, summer camp, travel expeditions, local outreach, and virtual programming. To learn more about the REEF Ocean Explorers Program, visit our webpage to discover the fantastic work being done to inspire and engage the public through education and citizen science. 
Register for the Fish Out of Water Virtual 5K
Registration for the 2020 Fish Out of Water Virtual 5K is CLOSED! Stay on the lookout for more information coming soon for the 2021 Fish Out of Water Virtual 5K. 
First time competing in a 5K?
Remember, you can choose to walk, run, bike, or hike the 5K (3.1 miles) all in one day or over the course of the week. For any first time runners, we're here to help you get ready. Check out these useful training plans to prepare you for the big day! 
Need any more information? 
If you have any further questions or want to learn more about the Fish Out of Water Virtual 5K, please email explorers@REEF.org or call 305-852-0030.