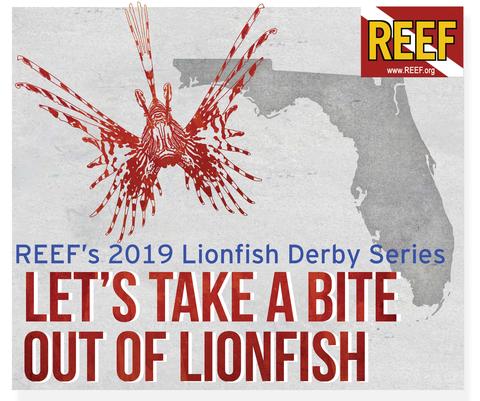 REEF is seeking sponsors for our 2019 Lionfish Derby Series! 
Please see our sponsorship package for more details on opportunities to help support these successful environmental community events throughout Southeast Florida!
Lionfish Derby Sponsorship Package
Also there are additional sponsorship options for our REEF Conservation Partners. 
Lionfish Derby Conservation Partner Sponsorship Package
Sponsorships result in broader corporate participation in events that reinforce our mission and programmatic objectives. Most importantly, sponsorship facilitates a measurable difference in the programs we offer, through increased participation in REEF's flagship events, including REEF Fest, a 4-day event held in Key Largo each year in September, and our Lionfish Derby Series, held each summer.
REEF events are underwritten by corporate and business sponsors including Whole Foods, Centennial Bank, DAN, Mote Marine Laboratory and Aquarium, Loggerhead Marinelife Center, Ocean Reef Conservation Association, National Marine Sanctuary Program, and Florida Fish & Wildlife. These events are attended by individuals from around the world who are committed to conservation action and community responsibility by supporting and participating in these events to benefit REEF. 
REEF Lionfish Derby Series – a series of 2-day events to remove invasive lionfish from the reef. Four Derbies are scheduled for the 2019 Series. 
If you would like to learn more about specific sponsorship opportunities, please contact lionfish@REEF.org or call (305) 852-0030.